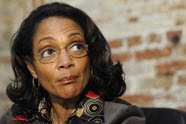 It looks like Mayor Sheila Dixon and the city of Baltimore are getting a lump of coal as an early Christmas present. A jury convicted Dixon today on one count of embezzlement, a misdemeanor, for stealing $630 worth of holiday gift cards. It acquitted her of three other charges, including the most serious felony theft charge.
Dixon said, "The city will still continue to move forward," as she left the courtroom after the verdict, adding that she was headed to City Hall to get back to work.
The conviction could very well end her career as mayor; however, the Maryland attorney general's office says she can stay in office at least until she is sentenced, reports the Baltimore Sun. She still faces a trial in March 2010 on two perjury counts, stemming from an accusation that she failed to report gifts, according to the New York Times.
As previously posted, Baltimore's first black female mayor was put on trial for spending gift cards on herself, when they were intended for needy families at Christmastime.