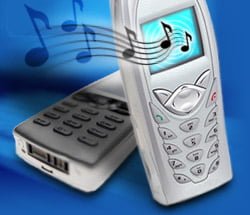 2009 has brought the world some pretty awesome music has it not? Sure it has. We had songs like the smash hit Poker Face from the music biz's IT girl of the moment, Lady Gaga, little miss Taylor Swift and her whimsical Love Story, and even the spaztastic song that created one of this year's hottest dance crazes, You're A Jerk by Cali's very own New Boyz.
Although all of those are great songs to vibe out to, we all wanted that oh so perfect song that was befitting for our cell phones. That one song that you wanted everybody to know that you loved so much that you just had to make it your ringtone, or even that song that you had to have just for that special guy/girl… of the moment.
Of the tons of songs sent out through the airwaves world wide, there were many that made it to the ringtone circuit. But of those, there were 10 that acquired more downloads than all the rest. Check 'em out and tell us what your favorite ringtone was or is. 
#1- Soulja Boy – Kiss Me Thru The Phone
#2- Jamie Foxx – Blame It
#3-T.I. f/ Justin Timberlake – Dead and Gone
#4-Kanye West – Heartless
#5-Black Eyed Peas – Boom Boom Pow
#6- Kid Cudi – Day 'N' Nite
#7- Kid Rock – All Summer Long
#8- Jeremih – Birthday Sex
#9- T.I. – Whatever You Like
#10- Flo Rida – Right Round