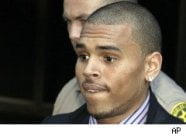 Last weekend, pop singer Chris Brown spent a lot of time re-Tweeting stories from fans who were claiming that his new album Graffiti, released on Dec. 8 by Sony (SNE) subsidiary Jive, was being held back from store shelves. Brown's domestic-violence incident last February with then-girlfriend Rihanna last February has polarized listeners and lit up message boards over the last few months, and Brown — and his fans — implied that his detractors were engaged in retail sabotage to take revenge against him.
To investigate these claims, Brown visited a Connecticut Walmart (WMT) to check up on Graffiti's placement, and then Tweeted his distress: "JUST WAS AT WALMART IN wallingford CT,844 north colony.. the didnt even have my album in the back… not on shelves, saw for myself."
It went on from there: "we talked to the managers and the didnt even know anything. wow!!! but they had alicia keys album ready for release for this tuesday comin. the manager told me that when there are new releases its mandatory to put em on the shelves.. BUT NO SIGN OF #GRAFFITI. BS no disprespect to alicia at all.. just givin an example to whos album is loaded and ready to go next week."
Was It Sabotage?
Were retailers boycotting Brown? Was Walmart (or were rogue employees) deliberately keeping the album off the shelves — or was Brown continuing the sympathy-trawling tour blazed by Graffiti, which explicitly references the pre–Grammys altercation?
The album has more than one track that addresses the incident from last Feburary. "Why is it so easy for you to blame?" he sings on "Lucky Me," before replying: "I'm only human, we're all the same." And "Famous Girl" references other popular songs of the moment — including "Disturbia," the 2008 Rihanna hit he co-wrote — while apparently referencing their relationship: "Watch the blogs talk about this one."
In years past, Brown was a consistent chart-topper. He's had two No. 1 singles on Billboard's Hot 100 chart, and his track "Forever" — a joint venture with the Wm. Wrigley Jr. company — saw a resurgence this summer after appearing in a viral YouTube hit, "JK Wedding Entrance Dance."
Disappointing Chart Action
But response has been mixed to two Brown singles preceding Graffiti: the aggressive Swizz Beatz–produced "I Can Transform Ya," featuring a cameo by Lil Wayne, peaked on the Hot 100 at No. 20, and the ballad "Crawl" only inched up to No. 65 in its second week on the chart.
Billboard conducted an investigation into Brown's claims among independent retailers and Walmart. Visits to stores in the New York City area revealed shelves filled with Graffiti; the Walmart outlet Brown had visited had sold out of its stock by the time Brown dropped in, Walmart says.
A pointed observation in Billboard came from a buyer at a large retail chain: "Not only am I carrying it, I am overcarrying it, because it isn't selling…I wish I could return it."
Sony shipped about 400,000 copies of Graffiti to U.S. stores, Billboard reports, and Brown's first-week sales totals are projected to be about 100,000. Billboard rival Hits projects first-week sales at 102,000.
The postscript? On Monday, Brown, whose "fan appreciation tour" of mid-sized clubs wraps up in New York City tonight, deleted the Twitter account that served as the forum for his complaint.