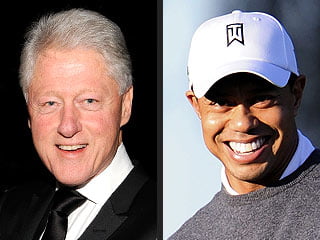 Bill Clinton offered his support to Tiger Woods in a phone call with the embattled golf star, a spokesman for the former president confirms.
"President Clinton spoke with Tiger and wished him well," Matt McKenna tells PEOPLE confirming a report in Golf Digest that the two had spoken.
It wasn't clear when the former president spoke with Woods or how the phone call came about. But Clinton, who has navigated his own infidelity scandals, offered words of encouragement to the golfer, who is reportedly in an Arizona rehab facility for therapy.
Reports that President Obama also called Woods are not true, according to a White House source.
In an interview with PEOPLE in January, President Obama said he believed Woods could be rehabilitated. "Absolutely. I don't want to comment on his personal relationship with his wife and family, but I'm a strong believer that anybody can look within themselves, find their flaws and fix them," he said at the time.
People Mag