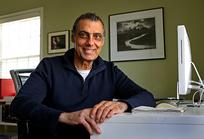 When Nick Charles was on the air during those halcyon early days of CNN, he came with certain absolutes.
He would be single-malt smooth, almost scary perfect in his delivery.
He would be the one your wife would vote "Sportscaster Most Likely to Watch if Stranded on a Desert Island."
And nowhere across the expanding cable universe was there a more magnificent head of hair. Charles tended it as fastidiously as a tenor does his voice or a politician does the vote.
He was one of CNN's foundation class of on-air personalities, battling head-to-well-coiffed-head with another start-up, ESPN, for the national sports highlight show supremacy. And his look was an important part of his broadcast signature.
But last August, when that Spartan's helmet of dark, thick hair fell out just days after Charles began chemotherapy, he spent barely a moment in mourning.
When a man is confronted with the end of life, new priorities come into play. Faced with a stage 4 cancer that began in his bladder and spread to his lungs, Charles, 63, has no time for the foppery of his industry.
"They always said I had a nice head of hair," said Charles, who for nearly a decade since leaving CNN has been a boxing announcer and commentator. "Just the genetic luck of the draw, that's all. A guy could be the biggest jerk in the world and have a nice head of hair."
According to the medical oddsmakers, there is no cure to be had. So Charles finds himself in a delaying action, opting for the strongest course of chemo in an attempt to stall the spread. These days, there is only time for the important stuff.
Fighting for time
His own father was a non-factor when he was growing up poor in Chicago, Charles said. That's a big reason he bases his entire treatment strategy on trying to steal a little more time with his toddler daughter. Four-year-old Giovanna came to him late in life (he has three grown children from another marriage). And he is clinging to her now like a lifeline.
"I made up my mind I want to stay on this [aggressive track] as long as I can, no matter how much it hurts, because I want to see my daughter," Charles said. "I love my wife, believe me. But this little 4-year-old, she's …" His voice trailed off.
The results of a mid-March check-up at the MD Anderson Cancer Center in Houston were discouraging, however.
The chemo had little affect on the cancer, and Charles is faced with beginning another round in May, with even less hope for any real impact.
He is committed to hosting a few more episodes of Showtime's boxing series "ShoBox: The Next Generation," after which, he said, "I'll call it a career." There is a cyclical theme at work. By that schedule, he would do his final broadcast on April 30 from in his old hometown of Chicago.
Passion for boxing
For all these years, Charles has been telling someone else's story. Here is a little about his own.
After learning his craft in local broadcasting, mainly in the Baltimore-Washington area, Charles moved to Atlanta in 1980 to join this new frontier outfit called CNN. He teamed with Fred Hickman for a nearly two-decade run on the network's "Sports Tonight" show. They and ESPN would define the genre of the national sports highlight show.
"We had better ratings than SportsCenter in the early years," said Jim Walton, now president of CNN Worldwide and a field producer for Charles back then. But ESPN eventually took over that world. Charles then briefly had his own show on CNN, "Page One with Nick Charles," before leaving the network in 2001.
He'd also covered the sports world for the various Ted Turner networks, hosting the TNT studio show for the 1992 and '94 Winter Olympics, co-hosting the network's Goodwill Games in the 1980s and '90s, and acting as the lead reporter at events ranging from the Kentucky Derby to Wimbledon.
Boxing had always been a special interest of his. He had done a little of it on the amateur level and was CNN's point man at all the big bouts in the 1980s and '90s.
"They would use the hell out of our stuff. We would go for a week at a time — before and after the fight — live break-ins, everything," Charles said. He had come along when boxing was populated by some of its biggest personalities — Sugar Ray Leonard, Roberto Duran, Marvin Hagler, and, later, Mike Tyson.
Over that time, he gained a deep appreciation for the gritty storylines of the sport. "I always wonder, 'Why do they subject themselves to [the punishment]?' But I have a tremendous regard for those who do it."
'Black-eyed and bald'
When, three months after leaving CNN, Showtime approached him about hosting a new series featuring up-and-coming fighters, he fit the role like a hand in a 12-ounce glove.
The work was good and Charles became noted for it, picking up an award for broadcasting excellence from the International Boxing Hall of Fame in 2008.
The work is important enough to him that he took on one assignment — calling November's Manny Pacquiao-Miguel Cotto fight for the international broadcast — freshly off chemo treatment.
"It was symbolic of how strong he is," said his Showtime broadcast partner, Steve Farhood.
"You seldom see anyone that visible post-chemo on the air," said his wife, Cory, 44, a producer for CNN International. "The worst he had ever looked going on the air before that was with a case of pink eye he had gotten from Giovanna."
His hair and eyebrows were gone.
The treatment had created deep, dark arcs beneath his eyes.
"It looked like I had gone 12 rounds with [George] Foreman and [Joe] Frazier," Charles said. He was wrung out.
"The day before the broadcast, I was thinking, 'How am I going out tomorrow night and do this show?' But it was important for me to show up — even black-eyed and bald. It was important for me psychologically, to feel relevant in that sense. I did it and I'm glad."
By the time Charles returned to the Showtime series in January, his hair had re-sprouted. He never has looked emaciated. His appetite remained strong throughout treatment. To keep in shape he would do pushups in his hospital hallway during breaks in the in-patient chemo sessions.
'Life-affirming stuff'
Charles has reported on all the big sporting events, from the Kentucky Derby to the Super Bowl to Wimbledon to the Olympics. But it has been boxing — that hard, cruel sport — that has extended him the biggest embrace.
In the small office he keeps in the home he and his family rent in Atlanta's Garden Hills neighborhood, Charles displays a T-shirt and buttons that boxing promoters in Oklahoma made on his behalf. The messages read like corner instructions: "Nick Keep Punching" and "Keep on Fighting."
Olympic gold medalist and super-middleweight titlist Andre Ward shouted out Charles' name in the ring after one recent victory.
"I've been blown away by the reaction," observed Farhood. "Both by the legitimate sympathy of the people and by the volume of it."
As someone who has maintained a public front during a profound illness, Charles has been struck in different ways by people's reactions.
"Walking around, you understand, you're sort of a non-person. People look through you. You've got the cancer look. You know you are the same person, so why are these people reacting to me differently?" he said.
On the other hand, he has taken much pleasure in the kindnesses shown him.
"If you got hit by a truck, people would come and give you a real nice eulogy, but you wouldn't be able to hear any of it," he said. "I've been able to hear from people and some of it has been real life-affirming stuff."
Cruel, powerful lesson
Whatever doubts may come in the dark of night, Charles has chosen to turn a determined face to the world. His operating formula: "Life is 20 percent what happens to you, 80 percent how you react to it."
"I think we all hope if we were dealt such a blow we'd react like he has," Walton, the CNN boss, said.
It's a cruel but powerful way to gain the gift of introspection.
"It reminds you how strong you can be — or are," Charles said. "Also, it teaches you to value happiness every day. It sounds impossible, and sometimes it is almost impossible."
There are practical matters to ponder, too. Charles loves the West, and before he was diagnosed, the family was in the process of building a dream home in New Mexico. Where to go with that now?
"With all the crap going on, how can you plan your long-term future when there is none?" he said.
One of the most difficult questions has been how much to tell young Giovanna.
"We talk about God, but the concept of eternity is impossible. You can't really prepare her. That tears me up," Charles said.
Counselors have offered Charles and his wife conflicting advice. One has told them to be direct and detailed with their little girl. Another has advised a more gentle tact, suggesting there is no need to burden her with the weight of this ordeal. So far they have leaned toward the latter approach.
"We have tried to keep it all in very simple terms with her," said Cory Charles. "The most she'll say about it is, 'I want Daddy's hair back.' That's her measurement of [the disease]."
She will surely learn, as friends and fans already have, that there's a lot more to Daddy than that.
The Nick Charles file
Born: Nicholas Nickeas, June 30, 1946, Chicago.
College: Columbia College, Chicago.
Professional: Worked in local television and radio in Springfield, Ill., and the Baltimore-Washington area before joining CNN in 1980 to co-host "Sports Tonight." In 2001, began calling fights for Showtime as part of its ShoBox series.
Personal: Married to CNN International producer Cory Charles. Has two children from a previous marriage (ages 38 and 35), an adopted child (23) attending Kennesaw State University and a 4-year-old daughter.
Awards: Three-time winner of Cable Ace awards for his work on "Sports Tonight"; 2008 winner of International Boxing Hall of Fame's Sam Taub Award for excellence in broadcast journalism