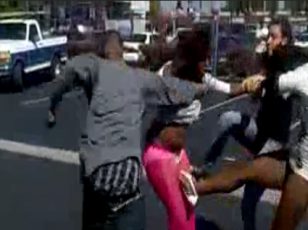 A group of females start scrapping in a parking lot. Well, really it's a bunch of h*es including a pregnant one.
None of them have any shame as they go at it, the pregnant woman gets kicked in the stomach and just keeps on swinging, just wildness.
As one fight ends another one starts brewing as the pregnant chick refuses to just STFU. She keeps talking trash to one of the chicks until her man/pimp gets involved.
Source Thisis50

Madness
Uploaded by PaperChaserDotCom. – Up-to-the minute news videos.