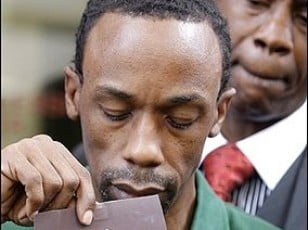 MyFoxHouston.com: HOUSTON – For Michael Green, exonerated by DNA after serving 27 years for a sexual assault he did not commit, it's the end of a long ordeal.
But an even more difficult struggle could be just beginning.
For nearly three decades, Green's life has fit into 40 square feet. He's been told when to go to bed, when to wake up and when to eat.
But on Friday, all the rules changed.
"It's very seriously a chess game," said prisoners' advocate Ray Hill, "and you don't know how to play."
Since 1980, Hill's "Prison Show" has aired on KPFT radio, teaching inmates how to play the prison game.
It's a game Hill knows well, having spent four and a half years behind bars in the early 1970's.
"I was more afraid to get out than I had been to go in. I mean, literally I was scared to death."
Now, Michael Green is back in the free world. But it's not the world he left at age 18.
When Green was first arrested in 1983, President Reagan was serving his first term, M*A*S*H was still airing new episodes, and Ms. Pac-Man was state-of-the-art for video games.
Green has lived 27 years with most things chosen for him. Now, even a trip to the mall presents seemingly unlimited choices.
"It's culture shock," exclaimed Hill. And it's compounded by Green's instincts, which may still be stuck in that 8X10 cell.
"The cultural norm (in prison) is to defend that space," explained Hill. "And that's a lot of hostility that wouldn't work on an escalator at the Galleria."
Like many ex-cons, Michael Green may find freedom more constraining than incarceration.
It's a phenomenon Ray Hill has seen so often, it's got him reconsidering the kind of help he provides.
"One of the things I do, Ned, is I teach people how to do time," said Hill. "And I've been thinking for a long time that I need to start a school to teach people how to undo time. Because it's not easy."
It can't be easy for Michael Green. He did 27-years that were not his years to do.