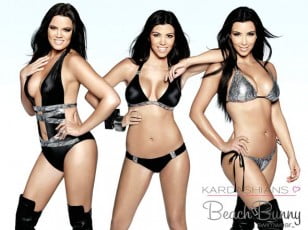 Keeping up with the Kardashians is about to get much easier.
Kourtney, Kim, and Khloe Kardashian have just inked a deal to develop fashion, accessory, and home lines with designer Bruno Schiavi and Jupi Corporation, WWD reports.
Set to debut in 2011, the first collection will consist of women's ready-to-wear, lingerie, handbags, belts, and wallets, according to the paper.
Future luggage, footwear, swimwear, and (hide the kids!) childrenswear lines are reportedly also in the works.
"We are excited to be working with Bruno Schiavi in developing our first brand together," the sisters said in a statement.
The reality stars have previously collaborated on projects including a Bebe fashion range, Beach Bunny Swimwear (above), while Kim has her own fragrance deal.
Face it, folks. It's their world, we just live in it.
Source: stylelist.com