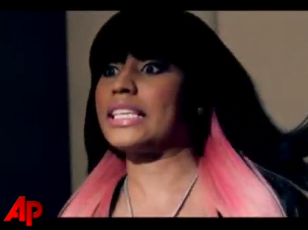 Nicki Minaj, the in-your-face, highly animated sex kitten and protege of rap prince Lil Wayne, has not only emerged as hip-hop's leading female, she's outdoing her male counterparts, too.
The 26-year-old Minaj has yet to release an official studio album, but she's saturating all facets of hip-hop, from radio to mixtapes to magazines.
She's costarred on songs with Lil Wayne, Drake, Usher, Mariah Carey, Christina Aguilera and Diddy, among many others. She's also set to appear on Kanye West's upcoming CD. With her collaborations, she's landed 10 songs on Billboard's R&B/Hip-Hop singles chart, including three in the Top 10; and Minaj's had eight overall tunes on the Hot 100.