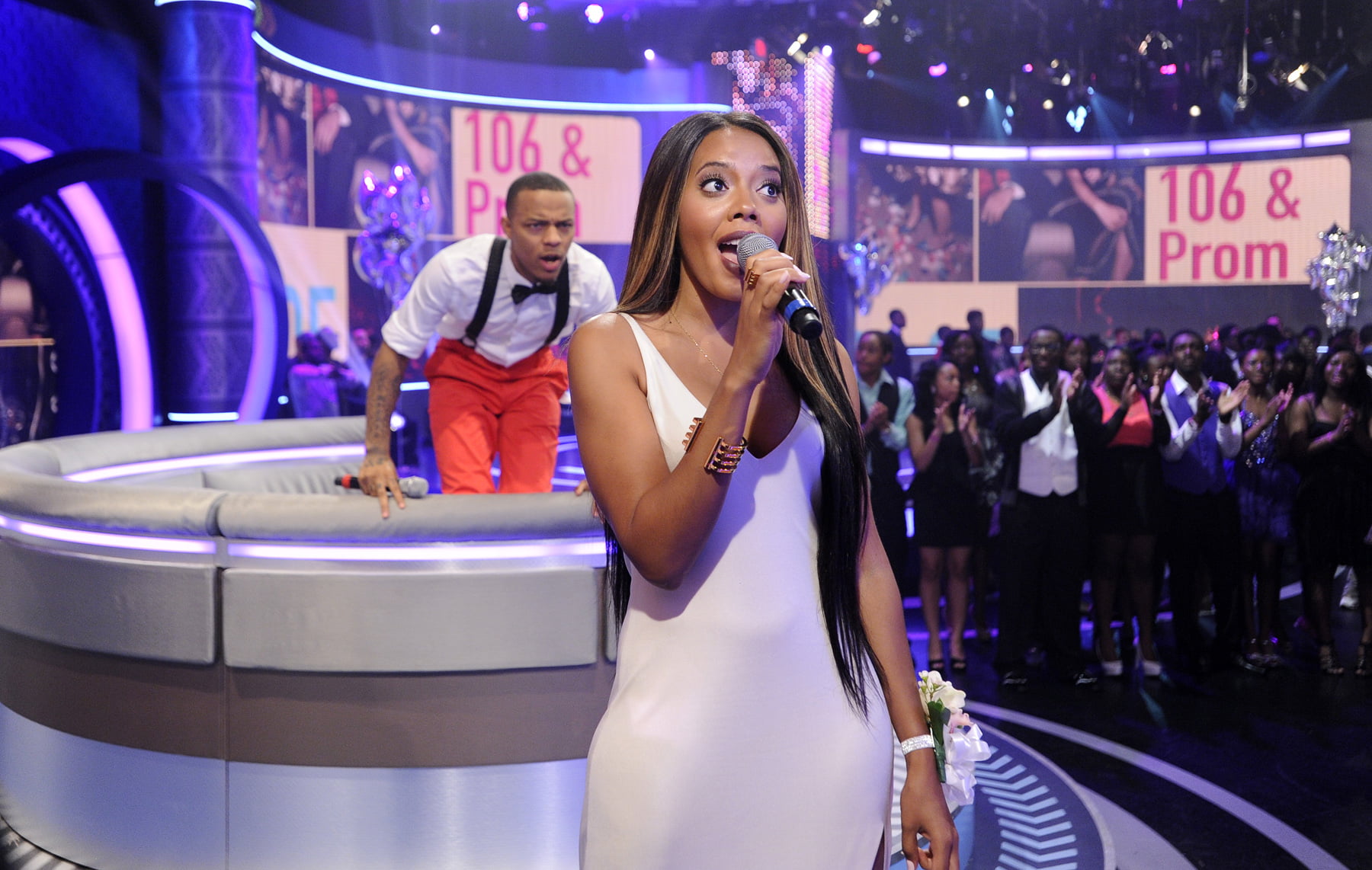 One thing I have learned about BET is that they will not let you know anything until THEY ARE GOOD and DAMN ready for you to know!
Has anybody else wondered what was going on with the HOSTS of '106 & Park'!?!? After Terrence and Rocsi said their good-byes, BET went on this MASSIVE 'MANHUNT' for REPLACEMENTS!! It was a BIG DEAL that went on for WEEKS. Thousands applied, submitted videos and etc vying at the chance to host a show that has been a STAPLE for BET's programming FOR years!
After all of that, it was decided and the HOSTS were chosen. This time, they decided to DITCH the GUY-GIRL format for something DIFFERENT!
Paigon, Miss Mykie and Shorty Da Prince lead by Bow Wow were chosen! Seems like a good fit?? Well obviously NOT! I ALWAYS thought that it was just TOO many people onstage talking, vying for camera time and it never seemed to GEL to me. And apparently to the VIEWERS and the POWER THAT BE as well. So with no WORD, or explanation, we started seeing LESS and LESS of the 3 newcomers. BET ushered in one'GUEST' host after another to 'BOUNCE' off of Bow Wow.
Angela Simmons was tapped to host with Bow Wow, and the girl/guy formatt was once again in place. The two seem to do well together, AFTER ALL, they DO have a history–they dated.
FASTFOWARD to TODAY, we FINALLY get a STATEMENT from BET about the FATE of the other 3 and just what Angela's ROLE on the show will be.
GET THE DETAILS after the JUMP!
In an OFFICIAL statement from BET:
106 & PARK" is undergoing exciting changes. Angela Simmons will continue to guest host until the end of the summer. Bow Wow aka "Mr. 106 & Park" will continue as the lead host; Miss. Mykie, Paigion and Shorty Da Prince will no longer remain on the show. BET Networks is happy to have worked with these bright, young stars and will continue to support them and their upcoming endeavors.
So let me TRANSLATE:
[my thoughts]
"We have seen that having all of those HOSTS did not work, so we DITCHED them. Thank you for your services but they will not be needed anymore. Bow Wow you can stay because, what else are you going to do? Your YMCMB disc will NEVER come out and when it does, it probably will not sell enough for them to care. Until then, we are busy searching for a SUITABLE host to stand beside you that does not make you look like a 5th grader."
Hopefully, Miss Mykie, Paigion and Shorty can get OTHER JOBS at the NETWORK, but most likely there are NONE to be had. We have seen the fate of other 'GUEST HOSTS' from the 106 family that have gone and been forgotten (anybody remember Tiffany and Alicia Rene?)
I may have been the ONLY person wondering where the other 3 amigos went, but now we know! Back to the UNEMPLOYMENT office.
DAMN, they were on the show for what, LIKE 15 minutes!?? WOW!


www.thegamutt.com