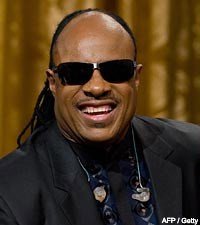 Stevie Wonder has collected a top French cultural honour, being made a 'Commander of Arts and Letters' in a ceremony on Saturday (Mar. 6).
Wonder, who also received an award from US President Obama recently, was given his title of Commander by French Culture Minister Frederic Mitterand in Paris. Mitterand commended the legendary singer calling him, "music's familiar genius."
Wonder had previously named for the rare honour as far back as 1981, but for some reason had been too busy to pick up the award, finally doing so some 30 years later.
He accepted his title with thanks to his mother, saying, "I receive this honour in memory of my mother and in memory of all those that have made it possible for me to stand here today."
The singer, who is set to headline this year's Glastonbury Festival, also performed at the musical award show ceremony, gushing afterwards, "All this in one day, it's almost too much for me. I'm breathless."