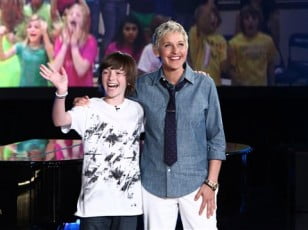 After a season judging singers on "American Idol," Ellen DeGeneres (dih-JEN'-ur-us) is delving deeper into the music business with her own label.
The talk-show host was announcing on her show Wednesday that she is starting a label called eleveneleven. Her first act will be 12-year-old Greyson Chance, who recently became a sensation on YouTube with his piano version of Lady Gaga's "Paparazzi."
There's no word on when the label will start. It was formed with Telepictures Productions.
Besides DeGeneres, Greyson has some other strong people behind him: Madonna's manager and Lady Gaga's manager.