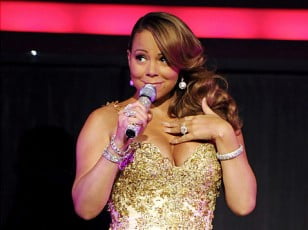 Is she or isn't she?
Mariah Carey abruptly dropped out of her next project – a role in Tyler Perry's "For Colored Girls Who Have Considered Suicide When the Rainbow Is Enuf" – on Tuesday, fueling rumors that she's pregnant.
While speculation has run rampant that she's with child since she married Nick Cannon in 2008, the 41-year-old started further whispers when she was spotted with her hubby outside an L.A. medical clinic this month.
Carey and Cannon, who have both talked about wanting to start a family, have neither confirmed nor denied the recent claims.
But Carey's longtime rep Cindi Berger gave a rather cryptic comment Thursday.
"She is not doing the movie because her doctor advised her not to," Berger told Us Weekly. She then insisted to us that she could not "comment any further."
If that wasn't enough, industry sources are abuzz that Mimi could – at last – be with child.
"It would certainly explain her decision to drop out of the movie," says an insider. "It was a golden opportunity. She'd have been working with Whoopi Goldberg, Janet Jackson, Phylicia Rashad and Loretta Devine – and she already made magic with [director] Tyler Perry once before."
Indeed, Mimi drew rave reviews – and a Hollywood International Film Festival award – for her turn as a social worker this year in "Precious," which Perry co-produced.
Says another insider: "She's finally being taken seriously as an actress. I'm sure she wanted to keep the momentum going, so she would have to have a really good reason, like a pregnancy, to give up this movie."
But fans of the "Imperfect Angel" needn't fret that Mariah is disappearing from the biz altogether: We hear that she's working on a holiday CD – a followup to her 1994 "Merry Christmas" album – that will be released at the end of this year.
If our math is correct, that would mean that Carey and her mister may have two reasons to celebrate – just in time for the holidays.
nydailynews