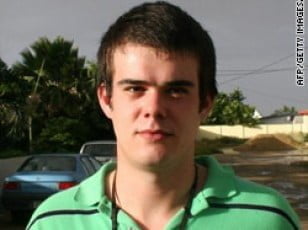 Joran van der Sloot, the Dutch man once considered a suspect in the 2005 disappearance of Alabama teenager Natalee Holloway, is the suspect in the killing of a woman in Peru, Peruvian police officials said Wednesday.
There is "incriminating evidence" linking Van der Sloot to the killing of 21-year-old Stephany Flores Ramirez, who was found dead in a Lima hotel room Wednesday, Cesar Guardia Vasquez, of the criminal investigations unit said at a news conference.
The hotel room where Flores was found was registered in Van der Sloot's name, he said.
A hotel guest and an employee witnessed the pair entering the hotel room together at 5 a.m. on Sunday, Guardia said.
Police have video of the previous night, May 29, of Van de Sloot and Flores together at the Atlantic City Casino in Lima, he said.
According to immigration officials, Van de Sloot fled to Chile over land on Monday, Guardia said.
(Programming note: Watch Nancy Grace tonight for the latest on Joran van der Sloot. "Nancy Grace," 8 ET on HLN. )