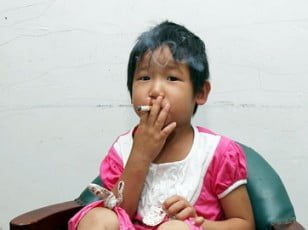 Three-year-old Ya Wen of China started smoking cigarettes and drinking beer after she was hit by a speeding van and spent five days in a coma, the New York Daily News reports. The girl's mother, Gao Wen, says her daughter's personality changed after the accident and she started acting like an adult.
"She likes drinking," Gao Wen tells the Yangcheng Evening Post. "Three glasses of beer is no problem to her."
Her mother also caught Ya Wen smoking her dad's cigarettes in the bathroom. She began stealing cigarettes from a store until the owner let her have them on credit, assuming they were for her dad.
Ya Wen's family lives in a shelter in Huizhou, China, and collects and sells garbage for cash. Her father recently gave up smoking to set a good example for Ya Wen, but she still cries for them, according to the Daily News.