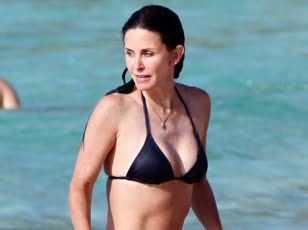 Who is seen without makeup but still looks hot? Courtney Cox! The 47 year old actress of the hit show Cougar Town was seen on the set without her makeup. That is not a big deal for her as her is facing her first big debut of a Lifetime series she will be starring in, Tall Hot Blonde.
Despite her wearing a pair of jeans and a pretty olive jacket she still has an awesome body. The secret to Courtney amazing bikini body can be contributed to her healthy eating habits and the Tracy Anderson Method. Courtney has not been spotted on a date since her breakup with ex husband David Arquette in 2011.
Perhaps the single and beautiful actress is holding out for Mr. Right. Courtney did share some useful and probably some surprising news with Howard Stern. She stated, "No guy's asked me out. I'm not saying I'm not ready to have a make out session, but it just makes me nervous." Courtney also expressed her concern of not enjoying going out in general.
This may be good news for the lucky man whom wants to ask Courtney out but is afraid to do so. It seems like she is just waiting for the right guy to approach her and ask her out for a date. The good news for Mr. Lucky is simple to see. He will definitely be getting a prize. As all can see Courtney loves to get wet and spend time on the beach