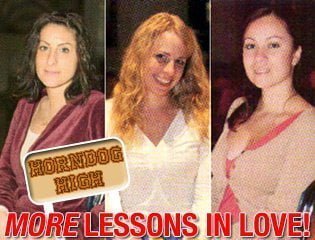 NYDailyNews: There are more sexy shenanigans at Brooklyn's Horndog High.
The day after the Daily News reported that two James Madison High School language teachers were busted "undressed" in an empty classroom, sources said a third educator is being investigated for getting too personal with a student.
Social studies instructor Allison Musacchio is under investigation for having an inappropriate relationship with a male student, sources said.
It is the second scandal in as many days to rock the Midwood school where New York Sen. Chuck Schumer and Major League ballplayer Frank Torre once walked the halls.
School sources said they learned of Musacchio's alleged antics in March, after a female James Madison student saw her ex-boyfriend's phone number on the tenured teacher's cell phone.
Officials found more than 200 texts and calls between the teacher and the male pupil and yanked her from the classroom, sources said. They said the amount of contact was inappropriate.
Musacchio, 31, was also investigated for having a fling with a former student but the probe was dropped because the teen was of legal age and no longer at the school, school sources said.
Attempts to reach Musacchio at her home were unsuccessful Wednesday, but she has told a neighbor the allegations were untrue.
"She said, 'Absolutely not,'" the neighbor said. "She said, 'Are you crazy? With my Greek background, I would never do something like that. I have morals and respect.'"
A man who identified himself as Musacchio's boyfriend said he was unaware of the allegations.
"I try to stay out of her business. I just know she's a teacher here in Brooklyn," he said. "She's a good person, this is a total shock to me.
"She keeps herself to herself."
Parents, teachers and pupils were reeling Wednesday after The News revealed that a janitor allegedly caught French teacher Cindy Mauro, 33, and Spanish instructor Alini Brito, 29, disrobed in a classroom while students were attending an annual singing and dancing competition on Nov. 20.
In a bizarre meeting of scandals, Musacchio is a member of a Facebook group set up by students wanting to talk about the language teachers' purported romance.
Lawyers for the pair said they "categorically deny the salacious allegations."
"They are both exemplary teachers whose reputations and careers are being irreparably harmed by unfounded rumors and innuendo," a statement said.
"They intend to vigorously address these allegations in the proper forum."
Musacchio, Mauro and Brito have been pulled from classrooms and sent to "rubber rooms" while their cases are investigated. Education officials could not say if they were in the same location.
"The school heard about allegations about employee misconduct, reassigned the teacher and referred the matter to the [Special Commissioner of Investigation]," education department spokeswoman Margie Feinberg said of Musacchio.