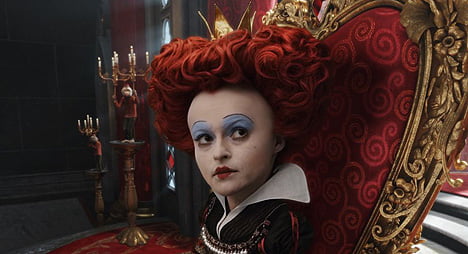 The Box-Office Top Five
#1 "Alice in Wonderland" ($116.3 million)
#2 "Brooklyn's Finest ($13.5 million)
#3 "Shutter Island" ($13.3 million)
#4 "Cop Out" ($9.1 million)
#5 "Avatar" ($7.7 million)
Moviegoers were transported to the whacky world of Wonderland this weekend as director Tim Burton's "Alice in Wonderland" debuted to a decisive first-place finish at the box office. Lovers of cinema both stateside and abroad put their stamps of approval all over the 3-D Disney film, which earned a domestic total of $116.3 million and a foreign gross of $94 million, for a worldwide tally of $210.3 million.
"Wonderland" established several new records during its opening weekend, including the greatest premiere for any film released in 2010 thus far, as well as the best ever March debut, outpacing the $70.8 million earned by Zack Snyder's "300" in 2007. "Wonderland" marks the most successful film launch of the Burton's distinguished career. Disney's latest also enjoyed best opening weekend ever for a non-sequel film, though the brand of "Wonderland" is clearly recognized across the globe. All of these records owe no small thanks to the increased ticket prices from 3-D and IMAX locations.
But even though the movie is currently enjoying phenomenal success at the box office, "Wonderland" is far from being a critical darling. According to Rotten Tomatoes, only 53 percent of critics have favorably embraced the movie.
As "Wonderland" commanded the majority of box-office business this weekend, competitors were forced to settle for a comparatively slimmer audience. "Brooklyn's Finest," also a new release, took home the second-best haul with $13.5 million, an admirable result given the cop drama's reported $25 million production budget.
Martin Scorsese's "Shutter Island" and Kevin Smith's "Cop Out" took the gold and silver medals last weekend, but both films slipped to third and fourth place with $13.3 million and $9.1 million respectively by Sunday's conclusion.
James Cameron's "Avatar," the 3-D science-fiction epic that earned its status as the most successful film of all time in just a handful of weeks, slipped out of the top five on Friday for the first time since its December debut. But it was able to rebound for a fifth-place finish of $7.7 million before the end of the weekend.