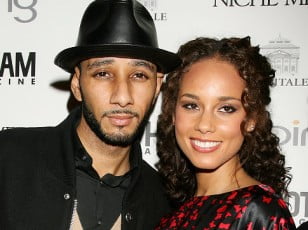 Swizz Beatz and Alicia Keys have two reasons to celebrate.
Not only is the low-key couple engaged, they are also expecting their first child together, People.com reports.
Keys, 29, and her music producer-beau, whose real name is Kasseem Dean, are "very happy," a friend of the couple told the mag.
According to their reps, the couple is set to tie the knot "in a private ceremony later this year."
In March, Keys told U.K. newspaper Daily Record that she is "very interested in starting a family."
"It is one of the most beautiful experiences to have in this life and I am looking forward to it when it is my time," she said.
This will be the first marriage for Keys. Beatz, 31, has two sons — Kasseem Jr., 3, and Prince Nasir, 9 — from previous relationships.