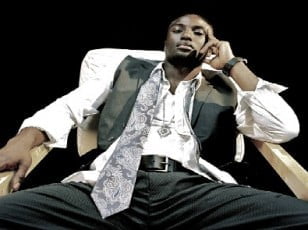 Getting steady chatter on the Internet and spins in clubs on the East coast, Amiyj is one of many new emcees putting in work. What makes him different from the rest is, as he'll tell you, his realness, his passion for the music, and his dedication to keeping a genuine integrity in his work. Not one to pick up on a gimmick or sell out for some extra play on the radio, Amiyj learned about sacrifice and hard work from a family that worked for everything they've got and learned about music from a truly diverse upbringing.
Being compared to everyone from Kanye to Mos Def to TI, Amiyj may just be getting his dream of appealing to everyone. From spending time hustling at a young age to pursuing a college degree in sociology and modeling in Los Angeles, no one is denying his diverse background and varied experience. Through all of it, Amiyj says, music was a constant. With the publicity of "Take a Picture" heating up, it's likely only a matter of time before we see more of this nose to the grindstone artist with his clear lyrical abilities and his refreshingly crisp delivery.
I had a chance to talk with Amiyj about his life, his music, and what makes him tick.
Your mother is Trinidadian and your father a Ghanaian immigrant. You spent some time in Trinidad with extended family as a child right?
Amiyj: Yeah, they (my parents) first met in Worchester Massachusetts. You know, they were like many other immigrants when they come to this country and they had nothing. So my father always talks about it like (in a mock Ghanian accent), "I came here with one dollah!" My mother sent me to Trinidad when I was 2 months old. So that's my passport picture, of her holding me up. I joke with her like 'you shipped me off at two months, really?!' And then I came back to the States around age 8 or 9. By the time I came back they were doing okay. They had got jobs, went through school, got associate's degrees. By that time it was definitely a better situation for them.
A lot of people are talking about your diverse background and how it has affected your music. I want to hear how you think it's affected your music and you as a man.
Amiyj: Just from having immigrant parents, and the whole concept you get from immigrants in general is that they work. They have that tireless work ethic. That's one thing I know I got from my grandparents, my mother, and my father. They just work, work, work. I can definitely say as far as music, or whatever I do, whatever I apply myself to, I do 110%. And as far as the whole Trinidadian culture, from the soca music to the way they are really in tune with music and making good records that just feel good. I got that early, as far as making records more of a feeling than just a record. Something that drives your soul, makes you want to move; it makes it real inspirational.
During that time, what were you listening to? What was the music that influenced you at a young age?
Amiyj: Early on I listened to a lot of Soca music. And then from my father coming over from Africa, they were still big on James Brown, George Clinton, Isaac Hayes. So my younger days were filled with that. Especially James Brown, Isaac Hayes, and the Isley's, those were there real heavy when I was younger. Back then though, the music was driven by words.
As I got older, I had two cousins and they first introduced me to hip hop with Big Daddy Kane, LL Cool J, and Kool Moe Dee. They had brought over a bag of cassette tapes and dropped it on the bed like "Here, listen to this". And once I got into that I was listening to Big Daddy Kane real heavy, he was definitely my favorite rapper early on, and then it went to Nas right after that.
From the first time you heard hip hop and began getting exposed to it, did you know you wanted to be a part of it?
Amiyj: Yeah, You know what's funny, from the time I was like 5 or 6 years old I liked to write poems, I liked to do creative writing almost in the form of raps, with line after line. So when I heard rap music, when I first heard it and how they put the words together I was like "oh yeah I was already doing this." I knew this was definitely what I wanted to do.
I heard you started hustling in your younger years, what led you there?
You know the story of my parents, how they came here with nothing but they worked their way up. So when I hit about 12 or 13 they had bought their first house, their starter home or whatever. When they first bought it things were tight so I used to have this same pair of jeans I used to wear all the time, I will never forget, they were USSX brand, like so not brand-name right? So, like these dudes at school, by like the third week they were killin me, like "what's this?" By then some of the hustlers took me in saying, "Yo you gotta start getting your bread up" And that's how I really fell into it at such a young age. I was like, I can't be out here looking like some bum. In hindsight the reason is insane but at the time it was huge.
You put yourself through college; tell me a little about that.
Amiyj: Yeah, I went straight out of high school. I played basketball so I went through a year of prep school first and then went to college, put myself through, paid for everything. I went for about 4 years and am still 12 credits short of finishing up though. College was crazy. College is where I really got into the making money part of music. A college campus is like a hustler's dream right there because everybody is within ear shot of your music. So college was when I really got on the grind, making CDs and selling them solo, like thousands of CD's in college. That's where I really perfected my craft as an artist. As far as lyrical content- I've always had that, just because of the depth of my thinking and knowing where I always wanted to go. But then when I got to college is when I was like okay, now I got to learn stage presence; now I got to learn how to make good records. So that's when I really developed was when I was in school.
When you were in school you were a sociology major. Did you choose that because you wanted a back-up plan or is there something in that field you want to do as well?
Amiyj: When I got out of school I had a real good job. I was working with mentally challenged adults as a caseworker. It was a great job and that's what I thought I could do. I would match them with employment opportunities and help them get jobs and I served as a communication tool between them and the employer. It was rewarding. But the thing is, when you are not doing what your true aspiration is, it's almost torture. I would be like riding in the car talking to someone but thinking about a record. It was a good job, but it wasn't what I am.
I read that you caught a trafficking case that was eventually thrown out because of an illegal search; how did that experience affect you?
Amiyj: It was an illegal search where the cops just did what they do. They didn't really have any reason to go looking for what they were looking for. But they found it. They didn't have any probable cause though. That was the point where I said you know what, I just got to really focus on my music and be appreciative of my blessings and understand that there are other ways to make money, especially when I am talented. And that's when I was fortunate to bump into a long time friend, Qa my manager. He had started Famish Enterprises, his label, and I started working with him. And that's when we went full blast with the music.
You also spent some time modeling in L.A. Between all of that: the hustling, college, the job, and modeling, was music always there?
Amiyj: It was constant. It never stopped. Even when I wasn't doing music I was doing music. And that's why I want people to hear my story because it is really conveyed through each record. You hear pieces of the whole story through each record. I remember watching a documentary about Reasonable Doubt and they explained your first album…that your first album is in the making of twenty-some odd years. You see what I'm saying? So my first album is twenty-some odd years in the making. It's going to capture everything.
I was reading an interview that Oprah had with Jay Z and he broke down the secret to success in the rap game in three steps. Number one, you have to have the gift, number two is the spirit or passion, and number three is the work you have to put in. What do you think of that analysis?
Amiyj: When you grow up in any situation, no matter what it is, and you decide to do something, it's almost like you have to know that that's what you're meant to do. Music, it comes to me naturally. It's not something where I sat down and started rapping and said, "oh I want to get money, cars, and…." No, that was never the case. I naturally love to make music. So, that of course has to be the first thing, you have to love what you're doing. Now once you love what you doing, that's not enough. You can't just love what you're doing and go around and play it for your boys. So that's when step two comes in to play. Step two is I love what I'm doing and can make my records. Now I have to have the work ethic to be able to get this music to the people that can help me. I mean there's plenty of times when I went 2 or 3 days without sleeping and didn't even notice. Just because I was in the studio and I really love it that much.
Your passion for the music is evident, but what else drives you to put in work every day?
Amiyj: I got a daughter and with her, with every parent, you want the best for your child. My whole dream is to start that "old money". I think every black person should have that as their goal because we don't have that "old money" in the black community, period. So that's a passion of mine. And plus I always have a burning desire to want more. So, after this is done, even if a record goes platinum, I'm going to want more.
What makes you different from the other artists trying to make it in this industry? What are you bringing to the game that we haven't already seen?
Amiyj: The lane that I think I'll be able to create is just being a real man. People will say, "If a dude smacks me I'm gonna smack him back because I'm a gangsta", or "I do this to girls because I'm a pimp." Or they come on the conscious side and say "I'm going to act this way because this is what's right." But it's almost like we forget about the everyday man who if you punch him in the face he's going to punch you back because he's a man and demands respect. Not because he's a gangster, not cause he's anything else. And as far as the conscious side, everyone has a conscious side, knowing what's right or what's wrong, but even conscious people want to go out and party too. So I think that lane of just a man that likes different things, who won't be disrespected. That lane, I don't think has been filled.
What music are you listening to these days? Who do you respect as an artist?
Amiyj: I'm different I listen to different genres. I like the band The Script; I listen to Avril Lavigne. My favorite rap artists are Nas, Kanye, Jay Z, Black Thought. I'm real big on Anthony Hamilton and, of course, Alicia Keys. It's all in articulation. I want to be able to reach everybody from black to white to young to old. And being like that, I can't keep myself in a box by just listening to one genre. I listen to everything.
Any idea when we will hear that first album?
Amiyj: No we don't have a date. The album is pretty much done. Right now what we are focusing on is the single and picking up enough buzz to grab enough attention so that when it's time to drop the album, we have enough ears that are ready to listen to it.
What else do you want people to know about you and your music?
Amiyj: What I want people to know is basically, everything is true. It sounds clich'e but everything I talk about is true emotion. It comes from a real place so that when you listen to it you can identify with it. I want my music to be inspirational. Even with a fun record, I want something to be in there that you can take away from it.
This talented artist is no stranger to hard work and if that's what making it in the game is about, there is no doubt he will be collecting. You can check out some of Amiyj's work both on
Myspace
and his
You Tube
channel. The ladies will no doubt appreciate those model good looks in his
workout video
snippet on You Tube as well.