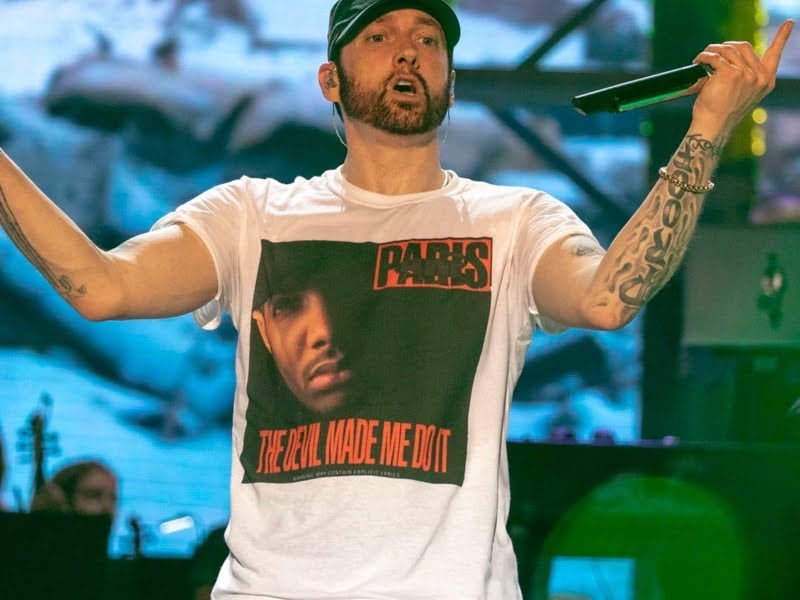 Chicago street artist Chris Devins affirmed that he would fix Eminem's mural in Detroit after his artwork got defaced one day following its completion. You will find this wall art a proper homage to the son of Michigan's largest and most populous city.
Eminem's mural in Detroit is a six-foot-tall portrait. Locals photographed the artwork and paid their respects to the rapper throughout the day after Devins finished working on it. The artist specializing in drawing public art focusing on places and people spent his weekend early this September to paint Eminem's face on a Detroit wall.
He reportedly started working at around 1 PM and finished after six hours. Devins's Instagram video of completing Eminem's mural in Detroit has already amassed 10,520 views today, September 9.
Unfortunately, you may feel commiserating with the artist if you are among Eminem's fans, as his artwork got vandalized one day after he finished it. Devins saw 18 bird head sketches that offenders drew using a Sharpie marker.
The Chicago street artist behind Eminem's mural in Detroit spoke to The Detroit News, expressing his devastation over the incident. Devins said that he could not believe people would commit such an act which he described as against street art rules.
He explained that he spent effort and time to ensure that Eminem's mural in Detroit is relatable to the community. He also said that he ensured that the artwork was something people would desire to see.
If you feel the same way as Devins, you should not worry, though. The street artist said that he wants to restore Eminem's mural in Detroit to its original value.
He added that he intends to present his artwork again to the community in its unblemished form. Devins expressed more of his views regarding his artwork of "The Real Slim Shady" rapper.
He said the mural truly enhances the wall, which he believes is completely suitable. Devins added that he wanted Eminem to appear fresh and young, so he drew him beautifully.
Last update was on: August 12, 2023 2:03 pm