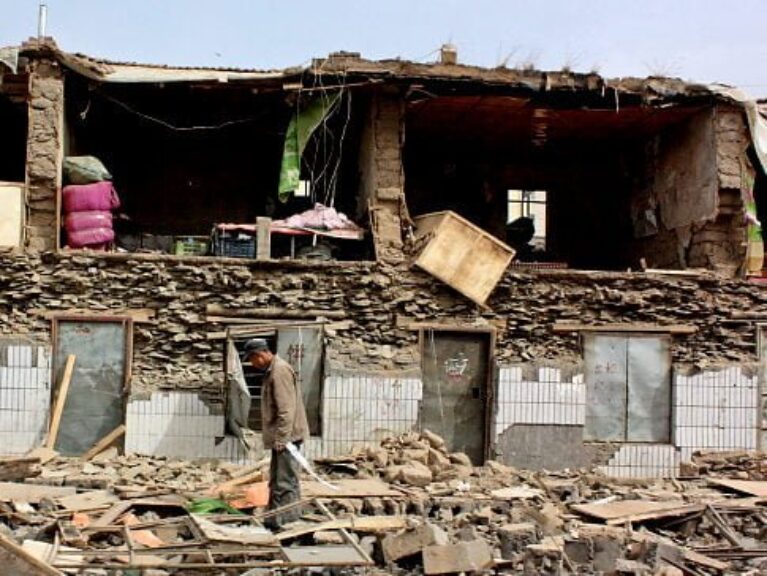 A series of strong earthquakes struck a far western Tibetan area of China on Wednesday, killing at least 400 people and injuring thousands as houses made of mud and wood collapsed, trapping many more, officials said.
Paramilitary police were forced to use shovels to dig through the rubble in a township where most of the homes had been flattened, footage on state television showed. Officials said excavators were not available and with most of the roads leading to the nearest airport damaged, equipment and rescuers would have a hard time reaching the area.
Downed phone lines, strong winds and frequent aftershocks were also hindering rescue efforts, said Wu Yong, a local military chief.
Workers were racing to release water from a reservoir in the disaster area where a crack had formed after the quake to prevent a flood, according to the China Earthquake Administration.
The magnitude-6.9 temblor struck an area in southern Qinghai province, near Tibet, on Wednesday morning, the U.S. Geological Survey said. The quake was centered on Yushu county, a Tibetan area in Qinghai's south, with a population of about 100,000, mostly herders and farmers.
The USGS recorded six temblors in less than three hours, all but one registered 5.0 or higher. The China Earthquake Networks Center measured the largest quake's magnitude at 7.1.
The main quake sent residents fleeing as it toppled houses made of mud and wood, said Karsum Nyima, the Yushu county television station's deputy head of news, speaking by phone with broadcaster CCTV.
"In a flash, the houses went down. It was a terrible earthquake," he said. "In a small park, there is a Buddhist pagoda and the top of the pagoda fell off. … Everybody is out on the streets, standing in front of their houses, trying to find their family members."
The death toll rose to about 400 by afternoon, according to CCTV. Emergency official Pubucairen was quoted as saying that the number of injured has risen to more than 10,000.
The earthquake comes a little less than two years after a magnitude-7.9 quake in neighboring Sichuan province left almost 90,000 people dead or missing.
That quake flattened several schools, killing thousands of students. Poor design, shoddy construction and the lax enforcement of building codes were found to be rampan