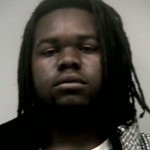 Not much from the NeNe Leakes camp lately – until now.
Radaronline.com got an exclusive, finding out that one of Leakes' sons Bryson Bryant was arrested for a minor pot possession charge. He ended up at the Gwinnett County Detention Center on March 7, the report said. The online publication also nabbed his mugshot (top left.)
NeNe released a statement this afternoon:
"Like any parent, I am disappointed with the actions and arrest of my son, Bryson. Certainly, my husband and I will deal with this family issue in a private manner. My son is not the first young adult to experiment with marijuana, and he certainly won't be the last. Still, as parents, this is a chance for us to have an open dialogue with him about the dangers of any substance abuse. I realize as a parent that my job is never done. And as I've tweeted, tough love was in order. Still, I ask that you respect our privacy during this trying time."
Earlier she Tweeted the following:
My head is up & held high this morning because I KNOW the parent that i'am! U hate 4 yo kids 2 make mistakes! TOUGH LOVE this morning
She also noted that she will be on Bravo's "What What Happens" live on Thursday night. I'm sure the host will ask her about her son then, too.
Bryson popped up on occasion the first two seasons of the show. He entered college season one, appeared to drop out season two. He also wanted to be a party promoter.
We're still awaiting to hear the cast members for season three of "The Real Housewives of Atlanta." Reports have said Leakes has been gunning for more money. Given the success of the show, all the housewives should be getting hefty raises. Production should also be starting soon.
Broadcasting and Cable confirmed that the show is coming back, along with a new "Housewives" edition out of Beverly Hills.