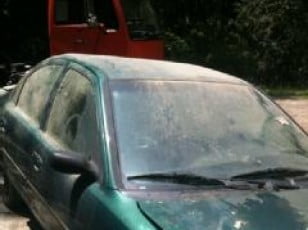 Atlanta Police said they caught members of a car chop shop ring in the act of stripping a car they had stolen.
Members of Atlanta's Auto Theft Task Force said they not only found the stolen Dodge Magnum in a wooded area used to strip cars but they also found a stolen tow truck the thieves used to steal cars.
Police arrested three men on the scene. When Channel 2 reporter Tom Jones asked one the men if they were members of a car theft ring, he angrily replied, "If you don't get that camera out of my face."
Detectives said the LoJack system on the Dodge Magnum alerted them to the whereabouts of the stolen car. When officers arrived they also found a car that was at the scene of a raid on a suspected chop shop nearby. They also found a rental car officers said a different set of men had failed to return.