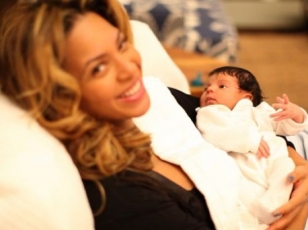 Beyonc'e is in the news again revealing it all! This time it is not her body she is exposing but her new bundle of joy. The infamous multi talented singer and mom is seem carrying (Blue Ivy Carter) her daughter in a Flux fur baby sling. A baby wrapped in swaddling clothes is one thing, but a baby wrapped in fur is something totally different. Is it real or not? Only mom knows.
The infant is less than 3 months old she is already in the spotlight. Beyonc'e is grooming her daughter for fame, success and high fashion. Although, no one can tell what designers clothes if any little Blue is wearing, we know it must be something grand.
Following their public debut mom and daughter were spotted wearing a pair of identical cat and mouse shoes. Beyonc'e shoes were priced at more than $600, baby shoes were reasonable priced at $60. Being in public eye 24 hours per day is like a walk in the park for some celebrities.
Beyonc'e is one of those celebrities that handle attention very well. Baby Blue is off to a good start as we all can see. She is growing up being the center of attention in both the media and in her mom's life. Fashion is everything when you think about whom Blue's mom is and what extraordinary talents she has.