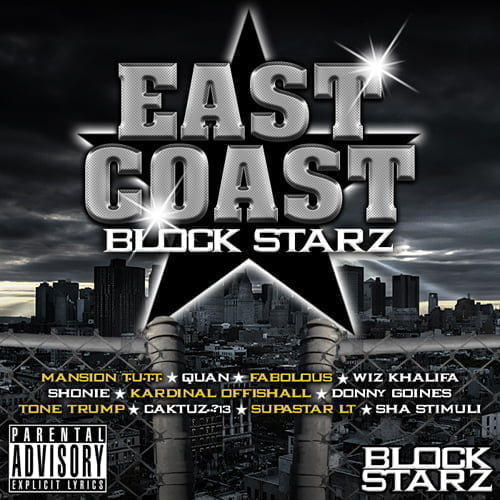 Block Starz Music (BSM) has announced the upcoming release of East Coast Block Starz, the next installment of its critically-acclaimed regional compilation series. Mixed by Clinton Sparks and his production team and co-signed by the biggest industry insiders, East Coast Block Starz will be a sonic wave of eye-opening, eardrum-popping tracks from some of the most promising urban indie talent from Washington, New York City, Newark, Philadelphia, Pittsburgh, Boston, and Baltimore.
"After the success of West Coast Block Starz and our popular mixtape releases by artists from the South and Midwest, we received a ton of e-mail from people on the eastern seaboard asking when we were going to show them some love," says BSM co-founder and president Bayer Mack. "We knew if we were going to bring it back to the northeast we had to come correct and I believe we've accomplished that with this new compilation."
Featuring some of the most promising new talent on the eastern seaboard over top notch production from The Alchemist (Eminem, Nas, Snoop Dogg), Sha Money XL (Slim Thug, Paul Wall, Juvenile), Rodney Davis (Mary J. Blige, Mario) , 9th Wonder (Jay-Z, Destiny's Child), Zukhan Bey (Jadakiss, Jim Jones, Ludacris) and appearances by Fabolous, Kardinal Offishall, Red Cafe, Raheem DeVaughn, and Quan East Coast Block Starz builds on the success of BSM's regional compilation series and cements the company's reputation as the home of Who Got Next?
East Coast Block Starz will be available for purchase at www.blockstarzmusic.com as well as all major online and traditional retailers including iTunes, Rhapsody, Napster, and Amazon.
"Block Starz Music is very excited about this new release," says BSM co-founder and chief executive Kai Denninger. "East Coast Block Starz is going to prove to anyone who thought we were just fooling around with West Coast Block Starz that BSM is serious and here to stay."