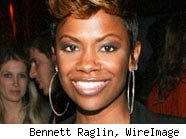 A.J. Jewell, the fiancé of 'The Real Housewives of Atlanta' cast member Kandi Burruss, died after a fight with another man in the parking lot of an Atlanta strip club in October. The man, Fredrick Richardson, was arrested on a charge of voluntary manslaughter, but conflicting theories on Jewell's cause of death have led to an order for the body's exhumation, CNN reports.
Police investigating Jewell's death originally said the death was caused by blunt force trauma, but a medical examiner later reported that sickle cell disease also contributed to his death. The deceased man's family has pushed for a second autopsy, claiming that Jewell did not have sickle cell.
"Whenever a family has to exhume the body of a loved one, it's a difficult, difficult decision to make," family spokesman Markel Hutchins said. "But I think it displays a great deal of courage and commitment on the part of this family toward truth and justice."
Hutchins claims Jewell's relationship with Burress might have hindered the family's question for answers. "It's almost as if A.J. and his family were being penalized because of his high-profile nature and because of his celebrity lifestyle," he said.
Jewell's father said that the surviving family cannot have closure until they know what happened. "I want the public to know my son did not have sickle cell disease," he said, "and I hope this next autopsy will prove that my son was murdered."