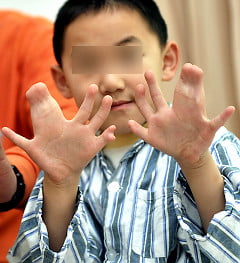 A six-year-old Chinese boy born with 31 fingers and toes has undergone an operation to remove the extra digits.
During the 6½-hour surgery in Shengjing Hospital in Shenyang, China, doctors removed 11 fingers and toes. On each hand, some of the child's fingers were fused, according to the Daily Mail.
The unnamed boy, who according to his mother had been called a "monster" by his kindergarten classmates, may hold the world record for the greatest number of fingers and toes on a human being, according to the Daily Mail.