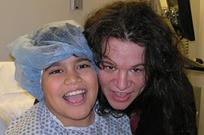 He's only 9-years-old, but Malkolm Poyer is already a published author. The night before his open-heart surgery Wednesday, he blogged about it.
Less than two weeks ago, Malkolm's South Georgia family learned he would need surgery. To help pay for some of the costs related to the surgery, Malkolm asked his mom if he could sell one of his stories on eBay. He's already sold more than 300 autographed copies of the story, which is going for $10.
The heart surgery is giving Malkolm a new chance at life. His creative writing talents likely will take him far, too.
Just an excerpt from "Luna," which he wrote for a school assignment:
I keep on striding down the road, and a nice little house steps into my view. There is a closed window, and a small candle glows inside. I hear a voice: "Goodnight, Katie." A small voice replies: "Goodnight, mommy."
I think to myself, "I think I'll take a peek." I jump toward the window, trying to get their attention. As soon as I smack against the window, I black out.
Although the family has medical insurance, the costs of a co-payment for the surgery and bringing a family of five to Atlanta quickly add up, said Jennifer Poyer, Malkolm's mom. Jennifer Poyer owns her own business, and her husband, Sia Poyer, is the volleyball coach at Valdosta State University.
The third-grader understands well beyond his years, his mother says. He wanted to help.
"He understands it, but he still has the child view of it," Jennifer Poyer said. "The innocence about how he interprets things makes it seem so simple."
Malkolm's life has been anything but simple.
Born with a condition that forced his heart to work much harder than normal to pump blood, Malkolm has never been able to participate in sports or run around like other children. Even when grocery shopping with his mom, Malkolm would easily get winded.
Instead, Malkolm has immersed himself in words, with both a love of reading and writing, his mother says. He understands literary techniques such as foreshadowing, and when he's typing stories on the computer, he'll use a thesaurus to pick just the right word.
"Sometimes I forget he's 9," his mother says.
Malkolm has been in the care of specialists in Augusta for several years. But at a recent appointment, his doctor told the Poyers that Malkolm should visit a specialist at Children's Healthcare of Atlanta. At his March 1 appointment, Malkolm and his parents were told he needed surgery to insert a defibrillator.
Tuesday, Malkolm, his parents, and two younger sisters made the drive from Hahira, outside of Valdosta, to Egleston hospital for some pre-op tests.
"I don't think I'm a country mouse. I think I'm a city mouse," Malkolm told his mom as the family arrived at their hotel.
After a dinner at Malkolm's favorite restaurant, the family got a few hours of sleep before arriving at the hospital at 6:30 a.m. The surgery was a success, Malkolm's family learned several hours later.
He'll likely be in the hospital for several days, Jennifer Poyer said. But once he has recovered, it will be worth it.
"He still won't be able to play sports, but that's OK," his mother said.
Malkolm is already working on his next story, according to his blog.
He wrote: "Please save your story that is signed by me and hopefully in the future it will be worth a lot more than it is now!"