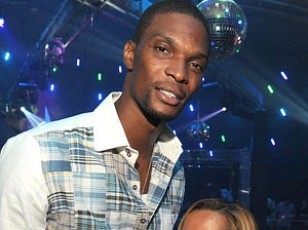 I can definitely get on board with a man who knows what he wants; and Miami Heat's Chris Bosh knows, which is why he and his girlfriend, Adrienne Williams are now engaged.
Aside from this past summer turning out to be one of the most eventful summers for the newly inducted Heat player, Bosh as added a topper to it all by proposing to his girlfriend for the last year and a half.
Friday night at one of Miami's hottest clubs, Liv, Bosh and Adrienne celebrated their impending nuptials along with Black Eyed Peas front man, Will.I.Am.