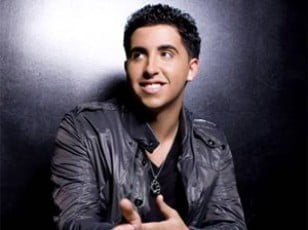 If the past few years are any indication, then it seems the future of R & B music will continue to evolve with both the brilliance of young artists and the experience of chart-topping veterans working in harmonious collaboration. Such is the case with Grammy nominated musician Colby O'Donis. His rise to pop status began at a very early age – landing a soundtrack spot (Stuart Little) with Motown, and he hasn't slowed down since. O'Donis writes, sings, and plays guitar, and with a drive he claims has existed as far back as he can remember, his persistence has interested some of the most prolific names in music. Proof is usually found in the product; simply look at the top-notch artists he's been aligned with since his young entrance into the fickle music business – Lady Ga Ga, T-Pain, Akon, Full Force, and of course his 2008 debut album and the award nomination to follow. Not too shabby for guy who's basically just crossed into his twenties. Colby O'Donis… the fans love him, major players embrace him, his career is on fire, and yet he's only just begun what he expects to be a hard-working, lengthy musical endeavor.
You began as a working musician at such a young age. Were your parents an influence or was this just your own youthful desire?
My family has definitely been a big part of my career from day one.
Did you have a lot of people around you in support of your career, being how cutthroat the business can be even for adults?
Yeah, I had pressure, a little bit of everything really, but it was great because I've worked with a lot of really amazing, talented people since as far back as I can remember. Motown and The Stuart Little soundtrack, Full Force who did a lot of work with Lisa Lisa, and I've just been moving ever since then. I just keep doing music and working on making records.
Did you ever have a preconceived idea for the success, and how quick it would take hold?
It's actually been my dream to get this far. That's why I've been at this for so long. It always starts off with a dream, and you kind of build off from there. This is what I wanted to do for the rest of my life.
Have you been able to remain grounded and have you seen the ego side of music?
To me, I just do what I do and don't let it get to my head or anything. Oh yeah, I've experienced a lot, anything you can think of. I learn from life and don't let it drag me down. It's been a learning experience, but a good one.
Let's throw some names out and tell us what comes to mind. Akon?
Oh Akon, definitely a great guy. Being involved with him is amazing. I've learned so much from him. It's been a very great experience for me.
Lady Ga Ga?
Oh man, that's definitely another amazing experience. She was a lot fun and being a part of that record was definitely a blessing for me. It's been a blessing for me and I thank God every day for it.
Which came first, singing or playing an instrument?
I've been singing forever, since I could speak. I picked up guitar when I was nine.
With collaborations, are there times when weight should fall solely on you and what one's could fit with a featured guest?
I think every artist is like that, where some songs should be on your own and some songs where you hear features more. It's a little mixture of both. I like having people on my songs, but I like to feature on other records more.
What projects do you have in the works?
I've actually been writing a lot for other artists and getting my next album ready, but I'm still working on that. I want it to be amazing, so I'm taking my time on it, focusing so it comes out exactly the way I hear it. No set date on it, we're still working on that. I'm working on a single and I'm looking forward to everyone hearing what I've been working on because it's been such a while.
Final thoughts for the fans?
I'm coming back hard. This is my passion, so I'll keep bringing great music to my fans.