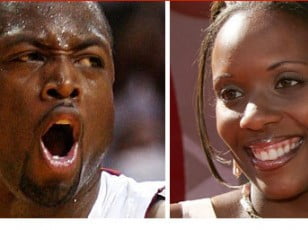 TMZ Reports:
TMZ has learned law enforcement officials are currently on the hunt for Dwyane Wade's estranged wife — after she missed a mandatory court appearance today.
Earlier today, Siohvaughn Wade had blown off a court hearing in Chicago regarding her ongoing divorce war with the Miami Heat star — so the judge threatened to issue a body attachment order unless she showed up in the afternoon.
The deadline came and went — and Siohvaughn never showed.
Now, the judge has issued the order — which means cops will now seek her out, take her into custody … and deliver her to the judge.
As we previously reported, Siohvaughn has made several sensational claims about Dwyane — most recently accusing the NBA star of engaging in "sexual foreplay" with his new girlfriend in front of his kids.
Dwyane — who was present at court today — has denied all of Siohvaughn's allegations.