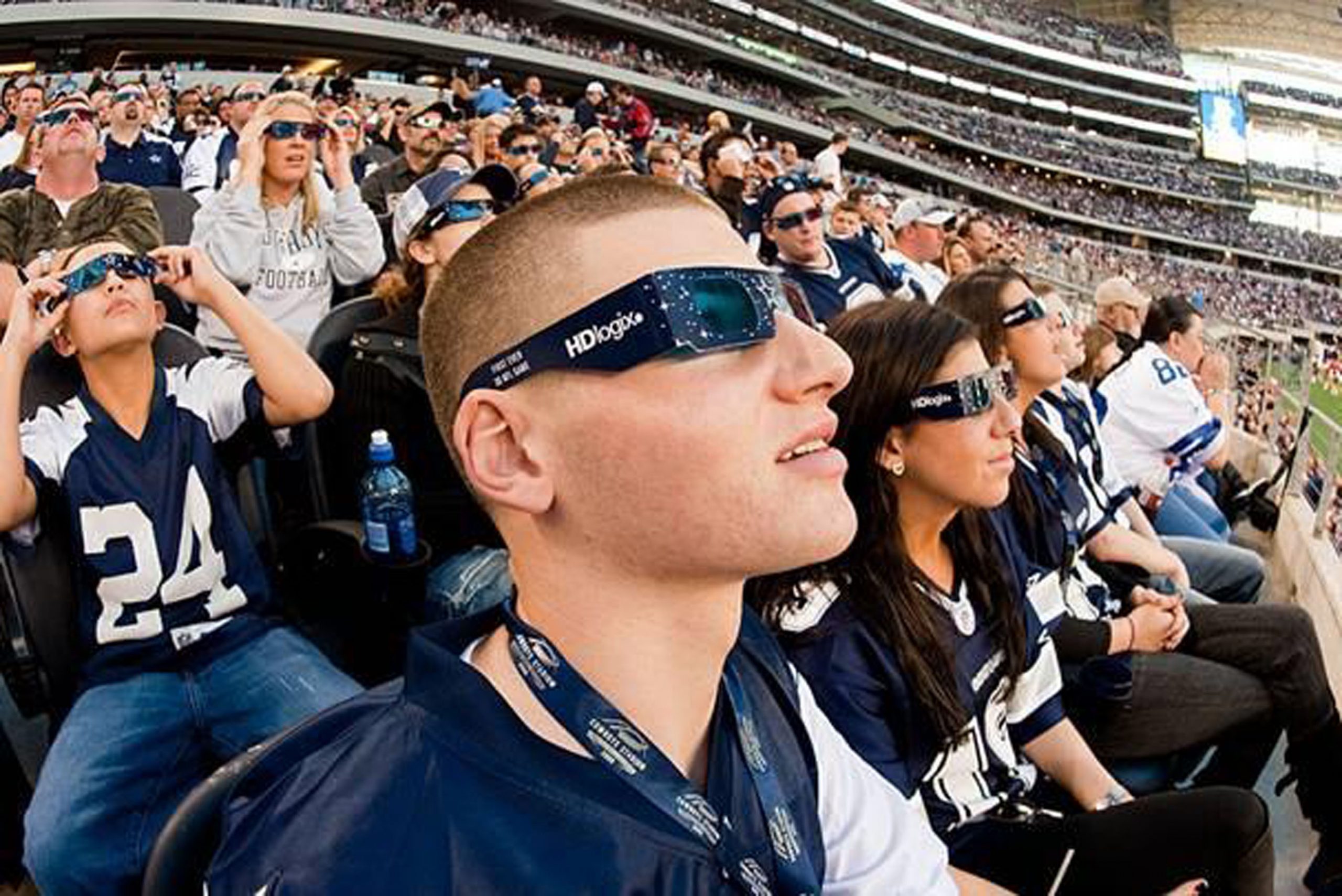 First-Ever 3D Stadium Experience during Sporting Event Fans Watch Live 3D Action on 11,520-Square-Foot Screen
The first live 3D broadcast ever to be shown on giant video screens at a major sporting event was unveiled today at Cowboys Stadium, electrifying over 80,000 fans who were given 3D glasses upon entering the stadium. Beginning with the second half kickoff of the Dallas Cowboys-San Diego Chargers football game, the enormous center-hung display in the spectacular new stadium was converted from high definition 2D, enabling fans to view both live action and instant replays in 3D.
Measuring 160 feet in length and 72 feet in height on the sideline boards–the largest video board installation in the world–the four board video cluster, suspended 90 feet directly over the center of the playing surface, stretches from the 20-yard line to the 20-yard line. Its massive size allowed fans on all levels in the stadium to view the game in crisp, clear 3D images during the second half.
The technology that made the conversion from 2D to 3D possible was created by HDlogix of Edison, NJ, a leader in imaging and video-based products for the world's consumers, entertainment companies and service providers. In addition to its technology for large public venues, the company's new ImageIQ 3D(TM) technology–which will be shown to the public for the first time at 2010 Consumer Electronics Show (CES) in Las Vegas next month–will enable for the first time real-time conversion of any HDTV signal to 3D on any 3D-ready display.
"The HDlogix 3D technology experienced by the Dallas Cowboys fans today at Cowboys Stadium will soon be enjoyed by television viewers around the world," said Jim Spinella, President and CEO of HDlogix. "Our new ImageIQ 3D(TM) technology will make it possible for anyone to enjoy 3D video of sporting events, feature movies and television shows whether they were produced in 3D or not. We believe it is the next significant evolution in television viewing."