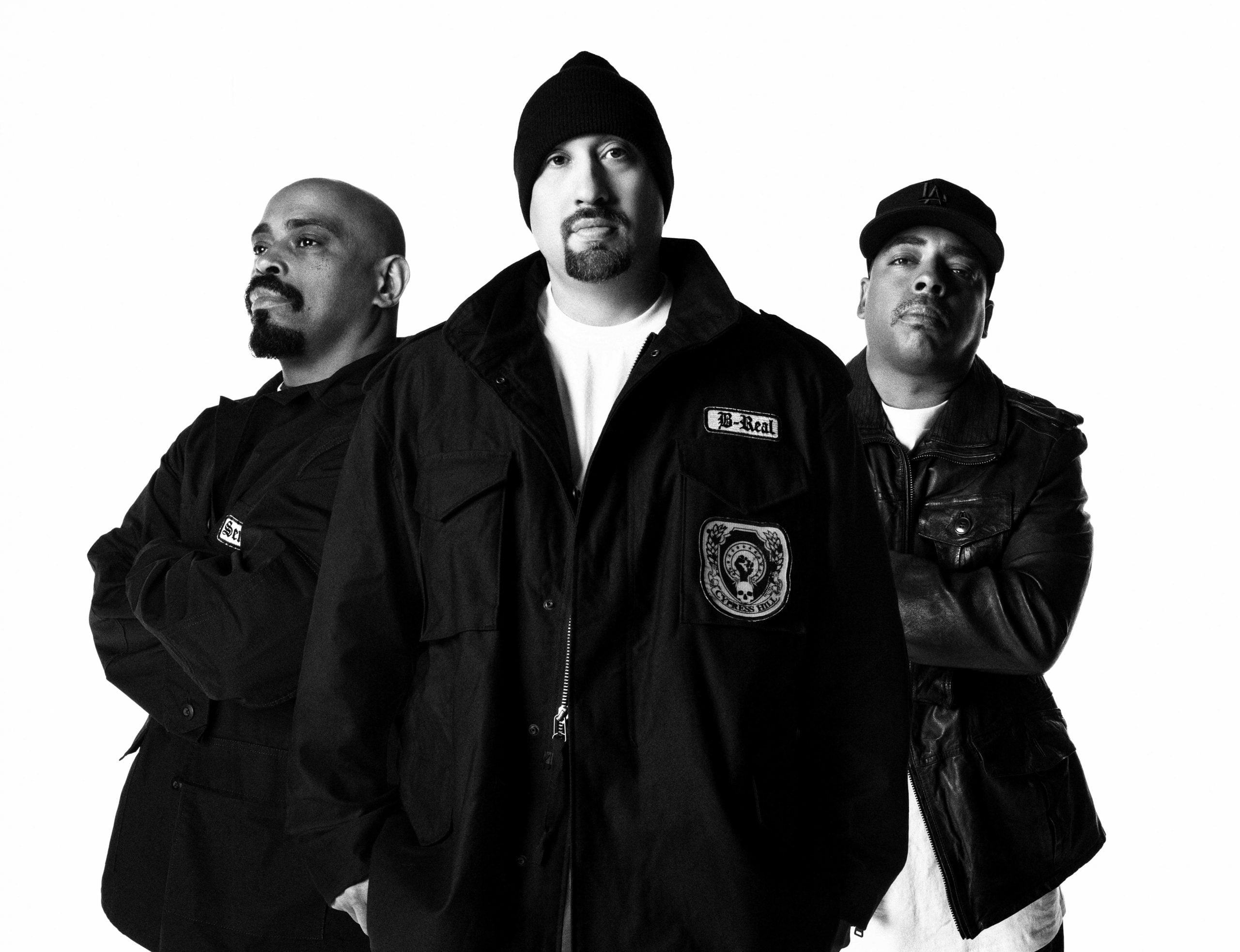 The stoned raiders of rap music haven't put out an album in six long years, but the members of this multi-platinum unit have not been sitting idly. Side projects, collaborations, and a separation with their longtime record label actually provided them with more ammunition for a fiery return on… what else… but 420. Percussionist Eric "Bobo" Correa discusses what eager ears will be tuning into once Rise Up gets lit up. Bobo says this will not be a slow burn either; expect the group's most intense record yet.
Is this album a Cypress Hill grand return?
Bobo: I think it is everything we could have done up to this point. I think that our approach to this was good. We didn't really have a time limit, so we didn't rush the album at all. When I listen to it, I hear something a little fresh. This record really impressed me. There are some different qualities about this record that are really a first in the rap scene, so I'm happy.
You're a percussionist by trade, so how do you and DJ Muggs share duties of putting together beats?
Bobo: There are times that Muggs will have an idea and I will add on to it, if it calls for it. Or, we've gone the other way, like when we were doing Skull and Bones and Stoned Raiders, on those albums we would go in and just start cranking out ideas and he would build on that. At times it's been like a give and take situation. That's the best way I can explain it. It's a mutual respect.
All members have put out solo albums and worked in collaborations. Does that help provide a positive outcome when you're all back for Cypress work?
Bobo: I think it's a very healthy thing. I would hate to be in an environment where you weren't free to express yourself in different ways. I'm a musician, doing this since I was little. I always want to try different things and work with different people, even though I'm part of a group. Not everything we come up with is within what we do in Cypress, and we recognize that and don't try to force that. It's that cohesiveness and chemistry we keep, and I think that went into this record.
Rise Up features a diverse roster of guest appearances and producers.
Bobo: We were fortunate to be able to work with Tom Morello, a good friend of ours whom we toured with back in the Rage Against the Machine days in the 90's. Then we have Daron Malakian from System of a Down, which was great too. And then we have production from Pete Rock, Mike Shinoda, Evidence and Alchemist. We have Everlast, Marc Antony and Pitbull, so it's an interesting mix.
Your father was a very prolific Latin Jazz musician. What lessons did he teach you?
Bobo: I was taught never to listen to just one type of music, not to segregate myself that way. Even in touring, to be able to hear music from different countries, different languages and rhythms – I take all that in. it makes your sound evolve. Like I said, it helps me be able to do a gig with Cypress Hill, then go into the studio with the Black Crows, or Soulfly, or Sergio Mendes.
Final thoughts on the new album?
Bobo: I would definitely say this is our most aggressive album to date. It's very strong and fresh, a new thing but a very familiar thing. To hear it from top to bottom – it's powerful. Make sure you're ready! Cypress Hill Rise Up, 420.
written by Christian W.C | photo by James Minchin