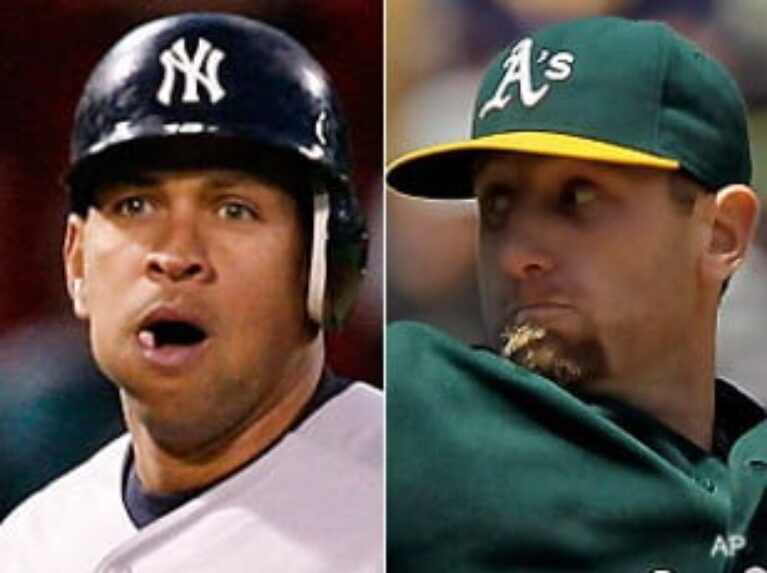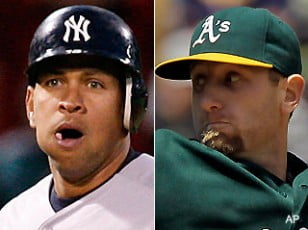 So was that Dallas Braden(notes) or Clint Eastwood's character from Gran Torino that beat the Yankees to move his season record to 3-0 on Thursday?
After listening to Braden go on a rant against Alex Rodriguez(notes) for breaking what he considers an unwritten baseball rule, it was pretty hard to tell.
Braden's big beef: In the sixth inning of the A's 4-2 victory, Rodriguez went from first to third on a foul ball by Robinson Cano(notes). His trip back to first took him right over the pitcher's mound, an unspoken no-no that ticked Braden off right away.
After a double play ended the inning, the 26-year-old pitcher immediately started yelling at A-Rod — watch it here — who claimed he didn't know he had done anything wrong
He also claimed he didn't know Braden was talking to him at first.
Said Rodriguez:
"He just told me to get off his mound. I was a little surprised. I'd never quite heard that. Especially from a guy that has a handful of wins in his career … I thought it was pretty funny actually."
Said Braden:
"He should probably take a note from his captain over there and realize you don't cross the pitcher's mound in between an inning or during the game. I was just dumbfounded that he would let that slip his mind — being someone of such status."
"I don't care if I'm Cy Young or the 25th man on the roster, if I've got the ball in my hand and I'm on that mound, that's my mound … He ran across the pitcher's mound foot on my rubber. No, not happening. We're not the door mat anymore."
Those weren't the only things that Braden said in his stand against an eventual Hall of Famer. You can read more of them at MLB.com or listen to his interview at the LoHud Yankees Blog.
I'd really recommend that you do both because it's fascinating to see just how worked up Braden got after thinking A-Rod had "disrespected" him with that move.
On one hand, it's nice for A's fans to see that one of their young guns won't cede any ground or be intimidated by one of the best players on the defending world champs. I'm also always up for any time a baseball player breaks cliche-mode and goes off the script.
But on the other, there's something to be said for knowing your spot in the game and earning enough capital to call out a perennial All-Star over something so petty.
Braden may get there one day … but he's not quite there yet.