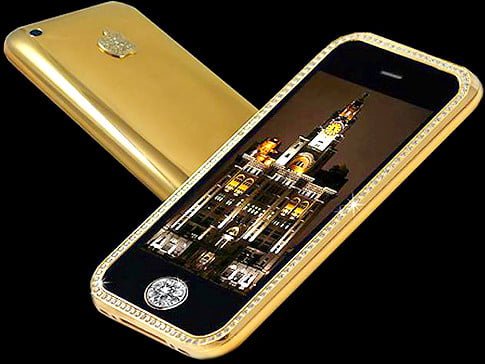 DAILY NEWS: British designer Stuart Hughes has created the most expensive cell phone on Earth by adding some serious bling to Apple's iPhone, Infibeam.com says.
Hughes used 271 grams of 22-karat gold and 136 flawless diamonds to create an iPhone 3GS worth a whopping $3.2 million.
"The iPhone is the phone with the most tricks on the market. What possibly could we do to trick it up more? Bless it with the finest precious metal and jewels," Hughes told PC Advisor.
It took Hughes 10 months to create the phone.
"Most of the 10 months was spent trying to source the diamond for the navigation button," Hughes said.
The Apple logo, embedded in the gold casing on the back of the phone, is made of 58 diamonds totaling roughly one carat. The navigation button on the front of the iPhone was made from a rare seven-carat diamond.