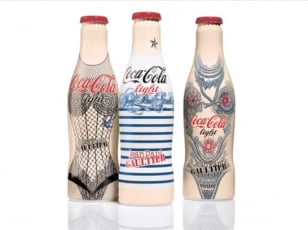 Remember those whacky cone bra's that Madonna used to sport in her videos and on stage during her concerts? Well, it seems that the folks over at Coca Cola found a bit of inspiration in them. Diet Coke has unveiled a new line of fashionable bottles, one of which draws inspiration from Madonna's infamous cone bra ensemble.
One of fashion's hottest designers, John Paul Gaultier, who is also the man behind the cone bra magic, was recently given the spotlight to express his creativity in the position of Creative Director for Diet Coke. His first order of business was to create the new bottles, showing off not only the Queen of Pop's signature look, but his own: white and blue stripes.
The cream-colored Madonna bottle, which has no official tie to the singer, is painted with a fishnet corset and, of course, cone bra.
Coke has long been a partner to fashion, having worked with Karl Lagerfeld and Dolce and Gabbana in the past, but now the cola brand is taking it a step further, mixing music history and style into one campaign.
Unfortunately for American Madonna fans, the John Paul Gaultier bottles are for a European campaign, and therefore won't be available in the U.S.