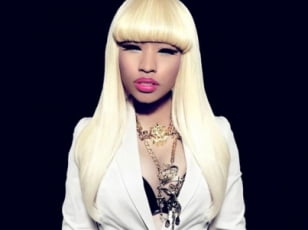 Mixtapes propelled her to stardom. MySpace delivered her sass flash and funk-dope style. Curves and color pop across her white-hot bod; she inspires wherever-she-go. She's a Scene Girl, rapper and lyricist with depth; and Nicki Minaj is raising the eyebrows of everyone from the stage to the hip-hop stratosphere.
Stacked with a performing arts background, she began her reach for destiny. She studied at the Fiorello H. LaGuardia High School of Music. Her gift for freestyle soon snagged the attention of Dirty Money Entertainment's CEO, Fendi, and later rapper Lil' Wayne. The high school she attended was the inspiration the feature movie "Fame."
Nicki Minaj's debut "Pink Friday" has made an influence in the music industry. The single "Super Bass" smashed onto Billboard Hot 100, making her the highest charting female solo artist since Missy Elliot with "Work It."
Iconic magazine Rolling Stone penned her "Queen of Hip-Hop"; she's opened for Lady Gaga on tour; she continues to press the boundaries of music and performance art; and she's still a solid Queens, New York girl at heart. An artist of the purest, her Minajesty, Nicki Minaj, is arising as an entertainment and cultural phenomenon.