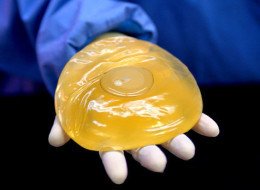 Maria Alaimo is suing her plastic surgeon for $5 million for botching her breast-augmentation surgery — giving Alaimo "essentially four breasts," her lawyer argued this week in Staten Island Supreme Court.
Alaimo, now 47, a Staten Island mother of two, went to Dr. Keith Berman for breast implants back in 2003, shortly after she turned 40, she told the Staten Island Advance. There were a couple of things about Berman that might have set off alarm bells: She found him through an online ad, and he demanded more than $7,000 in cash up front.
But Alaimo wanted full 36 C cups. She went through with the surgery, and wound up with "double-bubble" breasts, "pain … disability, loss of self-esteem, humiliation and embarrassment," according to her initial civil filing against Berman, his staff, and the Internet services she used to find him, My Choice Medical Inc. and 1-800-Be-Your-Best.
Since the initial surgery and follow-up procedures, her breasts now carry heavy scars, and "appear flattened on the bottom with severe swells the size of a softball on top," the Advance reported based on post-op photos.
Alaimo's attorney, Michael Kuharski, told the Advance her breasts have ended up "horrendous." Alaimo also blames the botched surgery for her subsequent divorce.