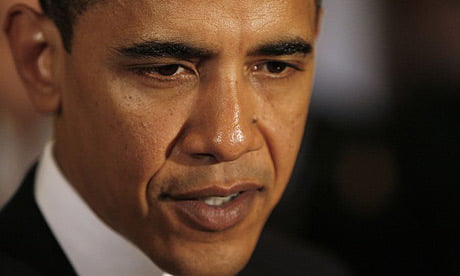 Barack Obama is still struggling to kick smoking, according to his first medical examination since becoming president.
Obama is sensitive about his cigarette habit and tetchy with reporters who raise it. But after his 90-minute medical at the Navy hospital outside Washington yesterday morning, his doctors confirmed he had not yet managed to conquer the habit and suggested he "continue smoking cessation efforts".
The doctors said the president used medication to try to ease the pangs, they described it as "nicotine replacement therapy, self-use".
Obama promised Michelle when he embarked on his campaign to become president he would quit, at the time he said he was smoking about eight a day.
He told reporters last year he had quit but still had an occasional cigarette, without specifying how many.
His health was described as excellent and he does not have to return for another medical until 2012. Obama, who is 48, has 20-20 vision, weighs 179 llbs in his shoes and clothes, and requires little medication. Apart from the nicotine replacement, he uses a non-steroid anti-inflammatory medication associated with physical activity: he regularly plays basketball at the White House.
The doctors also recommended "moderation of alcohol intake