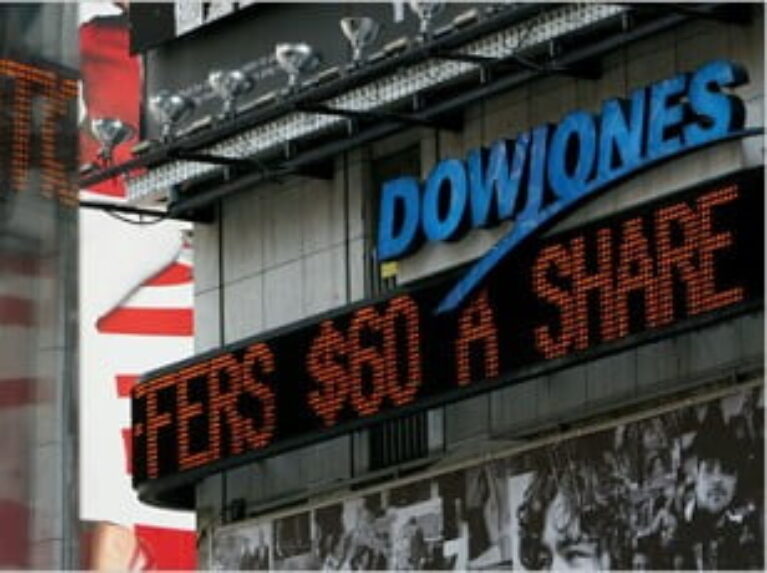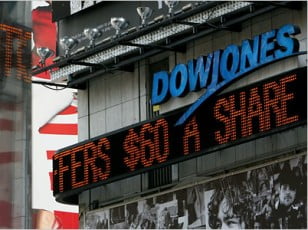 (CNNMoney.com) — Stocks selloff sharply Thursday, extending the recent downturn as investors continued to worry that Europe's debt problems will slow a bigger global economic recovery.
The Dow Jones industrial average (INDU) lost as much as 997 points in volatile trading. At 2:50 p.m it was down 600 points, or 5%. The S&P 500 index (SPX) slipped 63 points, or 5.4%. The Nasdaq composite (COMP) dropped 127 points, or 5.3%.
It's a knee-jerk reaction to the continued problems in Europe, Greece in particular, possibly Portugal, Spain, the U.K.," said Ted Weisberg, NYSE Floor trader, Seaport Securities.
Stocks have been sliding on and off for the last two weeks as investors mull the ramifications of the growing debt crisis in Europe. While European leaders have pledged to provide Greece with $146 billion in loans over the next three years, attempts by the nation to institute certain "austerity" measures to bring down the deficit have sparked riots and other violent outbursts.
Meanwhile, investors are concerned that the size of the bailout will make Europe less able to help Spain, Portugal and other debt-plagued nations. The so-called PIIGS also include Italy and Ireland.
"There's no question that Europe and Greece and specifically the fear of contagion is what's driving the market lower near term," said Hank Smith, chief investment officer at Haverford Investments.
"Having said that, we also have to be cognizant that the market was due for a pullback at a minimum, and possibly a correction," he said.
He noted that the market hasn't had a correction – technically defined as a selloff of 10% on a closing basis – for at least 14 months.
The euro plunged to a fresh more than one-year low versus the dollar Thursday, pressuring dollar-traded oil prices. Oil prices and energy stocks were also vulnerable in the aftermath of the Gulf oil spill.
A slew of good but not great retail sales reports from the nation's retailers, a report that showed weekly jobless claims dropped were also in focus.
The CBOE Volatility (VIX) index, Wall Street's so-called fear gauge, spiked 21% to a fresh high of 30.19, topping levels not seen since Nov. 4. The VIX is also up over 89% since falling to three-year lows in mid-April.
Watch Greece but don't forget America
Economy: The number of Americans filing new claims for unemployment fell to 444,000 last week from a revised 451,000 the previous week. Economists surveyed by Briefing.com thought claims would fall to 440,000.
Continuing claims, a measure of Americans who have been receiving benefits for a week or more, fell to 4,594,000 from a revised 4,653,000 in the previous week. Economists expected 4,600,000 continuing claims.
The report was released one day ahead of the government's closely-watched April jobs report, due Friday morning. That report is expected to show employers added 187,000 jobs to their payrolls after adding 162,000 in March. The growth is considered a step in the right direction, but the number of new jobs is not yet enough to keep up with the number of new entrants in the labor market.
The unemployment rate, generated by a separate survey, is expected to hold steady at 9.7%.
0:00 /2:34Investing for long-term profits
Corporate news: Troubled mortgage lender Freddie Mac (FRE, Fortune 500) reported an $8 billion quarterly loss Wednesday and also said it needs another $10.6 billion from the federal government. The company was put into conservatorship by the government during the height of the financial crisis in 2008, along with its sister company Fannie Mae (FNM, Fortune 500).
World markets: In overseas trading, European markets tumbled, with France's CAC 40 down 2.2%, Germany's DAX down 0.8% and London's FTSE down 1.5%.
Asian markets fell. Japan's benchmark Nikkei index lost 3.3% as investors reacted to the European debt crisis after a long holiday. The Hong Kong Hang Seng lost 1% and the Shanghai Composite lost 1%.
The dollar and commodities: The dollar rallied versus the euro with the European currency falling to its lowest level since March of 2009. The dollar also gained versus the pound but fell versus the Japanese yen.
U.S. light crude oil for June delivery fell $1.86 to $78.11 a barrel on the New York Mercantile Exchange.