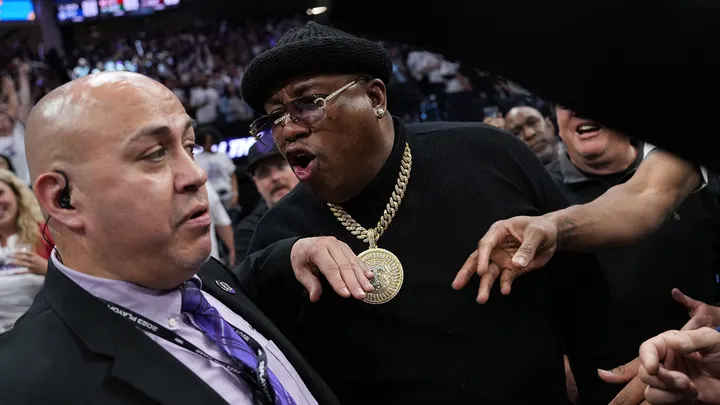 The Sacramento Kings and Golden State Warriors reignited their Warriors-Kings NBA playoff rivalry after a 17-year hiatus. As the Kings celebrated their hard-fought victory, taking a 1-0 lead in the series, the surprising ejection of Bay Area rapper E-40 caught everyone's attention.
Numerous regional luminaries, including Barry Bonds, Vlade Divac, Bobby Jackson, Jason Williams, and California Governor Gavin Newsom, were present at the Golden 1 Center, showcasing the importance of the Warriors-Kings NBA playoff rivalry. Fans were not disappointed as the Kings pulled off an impressive upset against the Warriors.
However, the unexpected ejection of E-40, a.k.a. Earl Stevens, added an extra layer of drama to the Warriors-Kings NBA playoff rivalry. A video emerged showing security escorting the rapper out of his seat amid an argument with Kings fans. Neither team has made an official statement, and details of the altercation remain unknown.
E-40, a Warriors fan and prominent figure on the West Coast, has also expressed his Kings fandom in the past, making his ejection all the more fascinating. It demonstrates how even celebrities can be swept up in the heat of the NBA playoffs and the fierce rivalry.
The Sacramento Kings' return to the NBA playoffs has rejuvenated the rivalry with the Golden State Warriors. With the Warriors dominating the league for almost a decade and the Kings making their long-awaited comeback, the Warriors-Kings NBA playoff rivalry has reached new heights.
E-40's ejection serves as a reminder of the passion that drives this regional rivalry, and his incident has only heightened the intrigue surrounding the Warriors-Kings NBA playoff rivalry. As the series unfolds, fans can expect more nail-biting moments and intense competition between these two California teams. The entire state will be watching, eager to see which team will emerge victorious in this electrifying Warriors-Kings NBA playoff.