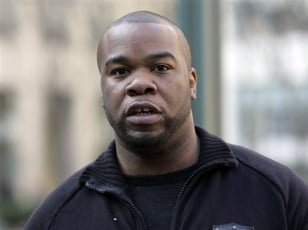 Jason Green had already had gained notoriety last year as a New York City paramedic accused of walking away from an ailing pregnant woman who later died.
He regained the spotlight again Monday because of his violent death — gunned down on the streets of Manhattan after a fight outside a nightclub.
New York Police Department spokesman Paul Browne said Monday that there was no evidence that the brutal slaying early Sunday in the SoHo neighborhood was payback for the death of the pregnant woman. He denied reports that investigators wanted to question her brother.
"There's no interest in any of her family members," he said.
Police, who were still seeking the shooter, were reviewing security videotape of the scene outside the club, Browne said.
Green's attorney, Douglas Rosenthal, said Monday he was "shocked" by the news of the shooting.
His 32-year-old client "was a good guy and a dedicated emergency medical technician," he said. "It's very sad."
The lawyer had defended Green and a co-worker, Melisa Jackson, against allegations stemming from a conflict Dec. 9, 2009, at an Au Bon Pain coffee shop in Brooklyn.
Green and Jackson were on a break while working as dispatchers that morning when it was alleged employees in the shop told them a pregnant cashier, Eutisha Rennix, was having a seizure. Witnesses claimed the pair left without doing anything to help.
The 25-year-old woman, who was six months pregnant, later died at a hospital. Her baby was delivered but died two days later.
The Fire Department suspended Green and Jackson for 30 days without pay before reinstating them. The Brooklyn district attorney's office said Monday that it was still investigating Rennix's death. No charges have been filed.
In an interview this year with The New York Times, Green and Jackson said that Rennix's co-workers never made clear there was an emergency, and that Jackson called a dispatcher for help before they went back to work.
Accusations that the pair callously ignored someone in distress are "all bogus and lies and fabrications," Green said.
Police said Sunday's shooting occurred after a friend of Green's was turned away from the Greenhouse nightclub because he was wearing shorts. While Green, the friend and two women were talking outside, a car with three men inside pulled up and tried to park where they were standing.
An ensuing argument escalated into a fistfight between Green and one of the men that spilled out onto the street, police said. The man pulled out a gun and shot Green two times before the men fled in the car.
Source The Associated Press