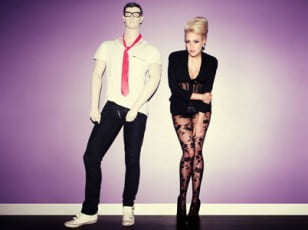 Jessie and the Toy Boys are poised to become the fresh new sound in the US. Starting out as a Hip Hop breakdancer, Jessie has positioned her band to become America's next music sensation besides American Idol finalists. Her eclectic mixture of Pop, Punk-Rock, Rap and Dubstep has catapulted her as the next coming of today's up-and-coming bands.
Armed with band mates that fully rely on her decisions, Jessie is slated to release her crowd-awaiting album. Although the name of the album is only known by her, she has the material that will shock the world. However, she has plans to possibly hold a contest for her ever-growing fans to guess what her next album will be. "I think I'm going to have a contest and I'm going to try to have my fans guess the title. I'm going to give them clues and see if they can guess it. It's an obscure lyric in one of my songs." Recently, we interviewed Jessie and the Toy Boys…
Well let's start by you telling us a little more about yourself?
Well…My name is Jessie and I have a band called Jessie and the Toy Boys. We are in the middle of writing an album that we are releasing this summer. We just released our first single, Push It. It's been really exciting because it's really starting to get really big in the clubs. I went out the other night and heard it in the club with my friends.
How did you come up with your stage name?
Well…you've seen my band mates. You see that they are plastic. The thing is, I've always like being in bands. I've grown up being in a lot of punk-rock bands. I like the feeling of being a part of a crew, but I'm such a creative control freak. Every time I started a band or a group, it's always ended badly because we argue over creative differences. So the thing is, because I have such a strong creative vision I wanted to start a band with boys that wouldn't talk back. That's why I started Jessie and the Toy Boys…because they are perfect and they listen.
How do your personal experiences affect how you write your songs?
It goes hand-in-hand because I write everything. All of my music is very autobiographical. It's almost like listening to pages right out of my diary. It's the number one thing that affects how I write my music.
You have experience traveling abroad. Do you incorporate that experience into your songs when you're writing?
Absolutely! I was fortunate enough to be able to live overseas for a while. I lived in London, spent a lot of time in Paris and spent some time in Sweden. It's interesting…as far as the music scene is, it's very different. Especially when it comes to Electronic music, America is way behind! I was exposed to sounds over there that I never heard of….particularly Dubstep.
When I lived in London and was a part of the major underground South London Dubstep scene. This record that I'm writing…it's very much Pop and I'm very proud for it to be Pop. I think that Pop is pretty cool! I have a lot of Dubstep influences, as far as the tracks and things like that. The best thing I took from there is this new sound, this new swag, that I feel that nobody is doing in America right now.
Who are some of the producers that you would like to work with the most?
I would love to work with Dave Steward from the Eurhythmics. I think he is incredible! It would be great to work with him. I would love to work with Bangledesh. I've met him several times out in the clubs and stuff like that. We talk about doing some stuff but we're never in the same place at the same time. His beats is just beyond! Skrillex is a Dubstep producer…he's amazing!
After long studio work and promotional road trips, what relaxing activities do you like to do to relax or unwind?
You know…this is a problem I have…because I really don't relax or unwind. Maybe I should do more of it. I just feel so blessed and so happy and grateful to be doing what I'm doing. I'm just 24/7 all about Jessie and the Toy Boys. Relaxing to me would be flipping through a magazine but with a purpose of looking for visual inspiration for the Toy Boys. Even when I'm relaxing or kicking back, I'm constantly just thinking about Jessie and the Toy Boys. If I'm not working, I will lose my mind. But I like boys too! Boys are a nice little activity.
What are some words of advice or motto you can give to the audience?
I don't know…You only have one life, so live it to the fullest!
Where can we hear more of your music and contact you?
Please, please, please check out my website which is Jessieandthetoyboys.com. The toy boys and I would be very, very appreciative. That has links to all of our social media outlets…Twitter, Facebook, Youtube, things like that.
Any last words you want to give out to your audience?
Just thank you so much for your support and looking forward to meeting you on our world tour.