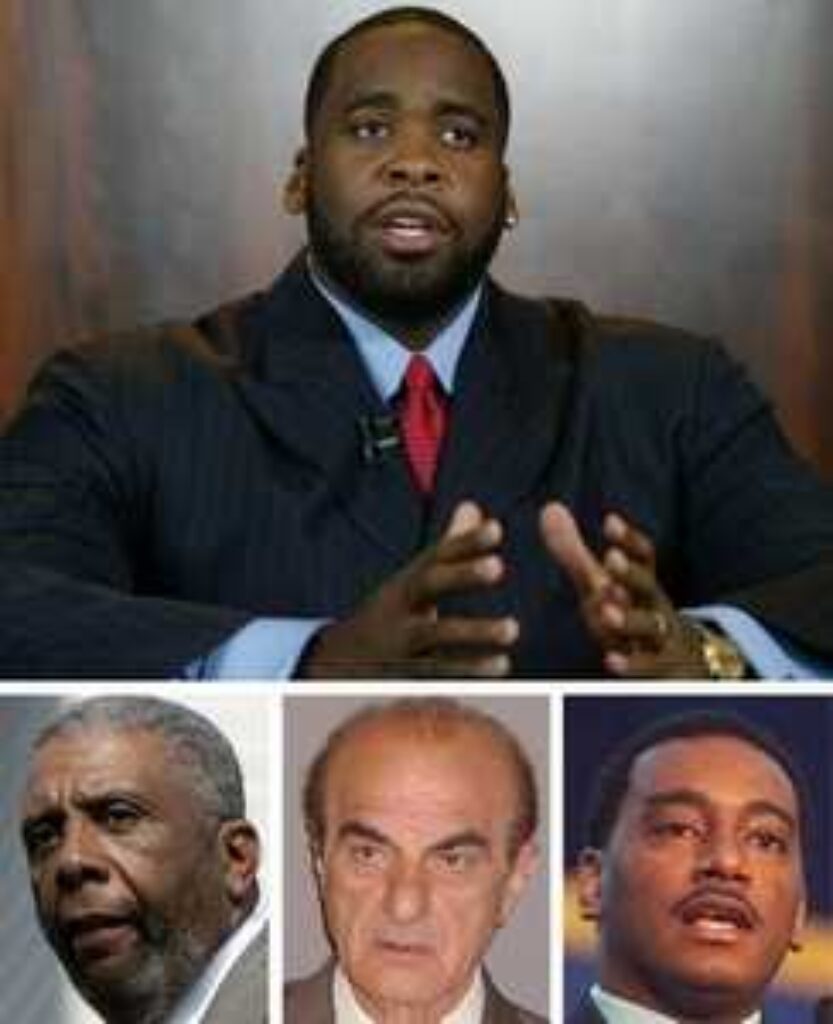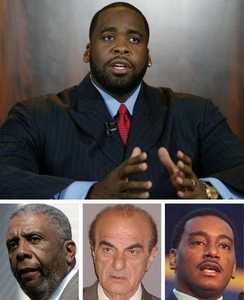 A contractor who pleaded guilty in an ongoing corruption probe in Detroit has told investigators that he handed as much as $100,000 in bribes to then-Mayor Kwame Kilpatrick in 2002, according to interviews and sworn documents reviewed by the Free Press.
The contractor, Karl Kado of West Bloomfield, also told the FBI he paid hundreds of thousands of dollars to the mayor's father, and thousands more to a close mayoral aide, according to the records and interviews.
Kado told authorities he paid Kwame Kilpatrick in four or five installments of about $20,000 each. Kado, who is awaiting sentencing for paying bribes to protect multimillion-dollar Cobo Center contracts, said he sometimes delivered the money in envelopes to Kilpatrick's office on the 11th floor at City Hall, and sometimes Kilpatrick dropped by Cobo to get the cash.
The allegations are significant because they show, for the first time, that the government has secured the cooperation of someone who says he gave payoffs directly to Kilpatrick.
Authorities obtained the information as part of a years-long, complex and wide-ranging investigation in Detroit and Southfield that has produced a series of public corruption charges and 10 guilty pleas.
• PHOTOS: Who's charged so far in U.S. corruption investigation
In pursuing Kilpatrick, investigators tracked cash moving in and out of bank accounts and wiretapped the phone of his father, among others, while slowly trying to build a case.
FBI agents also contend in sworn statements that they have grounds to believe Kilpatrick and his associates used the mayor's office to run a criminal enterprise, a term the FBI reserves for organized crime and racketeering cases.
It remains to be seen whether Kilpatrick or his father will ever face federal charges.
Kilpatrick's attorney, James Thomas, said he does not know of any bribery accusations against his client. The mayor's father, Bernard Kilpatrick, did not respond to interview requests. Kado and his lawyer declined to comment.
FBI believes mayor used office in criminal enterprise
In their investigation of Kwame Kilpatrick, FBI agents are trying to prove that the ex-Detroit mayor and his associates used his elected office as a criminal enterprise to enrich themselves, according to sworn documents reviewed by the Free Press and interviews with people familiar with the probe.
It's not clear whether the federal government will ever bring charges against Kilpatrick.
But in trying to build a case of criminal conspiracy, federal authorities have scrutinized a variety of evidence they say they have gathered against Kilpatrick, his father and close associates of the former mayor, according to records and people familiar with the probe.
Authorities describe a variety of alleged bribes and extortion demands during Kilpatrick's years in office that, when taken together, could amount to racketeering violations under federal law. Allegations cited in government documents and culled from interviews include:
• That Kwame Kilpatrick accepted bribes of up to $100,000 from Kado, a businessman who had exclusive, no-bid janitorial and electrical-services contracts at Cobo Center and a sundry shop at the convention hall.
• That Kilpatrick deposited unspecified sums of cash into bank accounts without declaring the funds as income.
• That Bernard Kilpatrick received large amounts of money from contractors and business owners in return for official acts by the mayor; and that he pressured others to donate to his son's political or civic fund.
• That Kado paid at least $30,000 in bribes to mayoral aide Derrick Miller, including $10,000 for a trip to Europe.
• That Miller told a local businessman he would be punished for backing a political opponent when Kilpatrick sought re-election. Shortly afterward, the businessman's commercial vehicles started getting ticketed in Detroit — with the directive to do so allegedly coming from the mayor's office.
FBI agents have said they believe these activities and others constitute a criminal enterprise — wording that indicates the government is trying to build a case under the Federal Racketeer Influenced and Corrupt Organizations Act, or RICO, which has been used to prosecute a pattern of crimes by public officials, Wall Street swindlers and, most notably, Mafia families.
A RICO case — if it ever materializes — would expose Kwame Kilpatrick to far greater potential punishment than others who have been charged in an ongoing metro Detroit public corruption probe. Defendants in RICO cases can face up to 20 years on each count.
Peter Henning, a Wayne State University law professor and former federal prosecutor, said building a RICO case may explain why federal prosecutors have spent years investigating Kilpatrick.
"It wouldn't be surprising if it took two or three years to build a case," Henning said.
Kilpatrick did not return phone and e-mail messages seeking comment Friday and Saturday. James Thomas, his criminal defense lawyer, said Friday he did not know of any bribery accusations against his client in the federal corruption probe.
"I am not aware of any direct payment that was ever made to Kwame Kilpatrick," said Thomas, who helped defend Kilpatrick against perjury-related charges in the text message scandal. "And frankly, I'd be surprised to see it.
"But I'm not going to try my case in the media. There hasn't even been an indictment yet. If Mr. Kilpatrick is charged, we will try our case in the court and not in the press."
Bernard Kilpatrick and Miller could not be reached for comment.
Kado provides specific evidence
In the long-running metro Detroit probe, which has already produced 10 guilty pleas, the government has talked to scores of people, subpoenaed bank and business records, and obtained court approval to wiretap phone conversations of Bernard Kilpatrick, then-aides to the mayor and others.
The most specific evidence to come out against Kwame Kilpatrick in the government documents and in interviews involves Kado, the onetime Cobo Center contractor. He is set to be sentenced in March, after admitting that he bribed a Cobo official, who is now in prison, and a city official and an associate of that official, both unidentified.
It is unclear what, if any, evidence federal authorities have to corroborate Kado's claim that he bribed the ex-mayor.
Kado, 69, declined to be interviewed Friday, as did his lawyer.
But the records reviewed by the Free Press show that Kado began to secretly cooperate with the government's long-running investigation of city hall corruption well before he was criminally charged in August 2008.
Kado offered the FBI the following account:
He said Kilpatrick initially approached him in 2001, when he was first running for mayor, and asked for Kado's support. Two or three days later, Miller, Kilpatrick's longtime friend, visited Kado at Cobo, where Kado ran a sundries shop.
Kado said he turned over $10,000 for the election.
Kado told agents that after Kilpatrick won election, he was hit up for cash by Kilpatrick's father, Bernard. Kado said he decided to pay because he believed Bernard Kilpatrick — who had set up a consulting business just 10 days before his son took office — could get Kwame Kilpatrick to help Kado resolve any problems at Cobo.
Kado estimated that he paid Bernard Kilpatrick as much as $290,000 between 2002 and 2005. The Free Press previously reported that federal authorities have tried to determine whether Bernard Kilpatrick was involved in payoff schemes to steer city business to contractors, and whether he illegally passed along money to his son.
In September 2005, the U.S. Attorney's Office wrote to Kado that he was a target of its corruption probe. Kado said he showed the letter to Bernard Kilpatrick, who rented office space from Kado in a building on East Jefferson, and asked him for advice about hiring a lawyer.
He said Bernard Kilpatrick asked whether he knew who the government was investigating. Kado said he wasn't sure, but said that Bernard Kilpatrick could be a focus. He said he then told Bernard Kilpatrick he couldn't give him any more money because the FBI was after him.
Thirty to 40 minutes later, according to Kado's account, Bernard Kilpatrick approached Kado in the parking lot and told him he could get Kado another 10 years at Cobo if he was willing to work together. Kado said he declined, telling Bernard Kilpatrick not to worry about it.
$10,000 here, $10,000 there for an aide
According to Kado's account, he also told FBI agents that Miller, the city's chief information officer under Kilpatrick, pressured Kado to give a piece of his lucrative electrical contract at Cobo to Miller's relative, who had been lobbying Kado for work.
Kado said he balked and contacted Bernard Kilpatrick to complain. After that, the relative stopped coming around Cobo.
Kado said he later regretted rebuffing Miller, believing he may have damaged his relationship with the mayor's close friend. So, at a party in the Palmer Park neighborhood in late 2003 or early 2004, Kado said, he gave Miller an envelope with $10,000 in cash.
Miller wanted more, Kado told authorities, and asked him for another $10,000 so he could attend a European auto show. Kado said he paid the money in late 2004.
Miller has not been criminally charged by the feds.
In August 2008, well after Kado began talking with the feds, he was charged with felony tax violations in connection with bribes at Cobo.
Last June, he admitted that he failed to report $270,000 from his sundry business that he used to bribe a Cobo Center director, an unnamed city official and that official's associate to protect no-bid contracts that generated about $1 million a year in profits for Kado. When he is sentenced in March, Kado faces a mere zero to six months in prison because of his cooperation.
RICO case has pros and cons
Federal RICO law defines a criminal enterprise as "any group of six or more people" who engage in a pattern of crimes such as bribery, extortion, money laundering, mail, or wire fraud."
"Such groups maintain their position through … corrupt public officials, graft, or extortion, and generally have a significant impact on the people in their locales," the FBI says on its Web site.
In the records reviewed by the Free Press, federal agents listed at least eight people who they say participated in the Detroit conspiracy. The list included Kwame and Bernard Kilpatrick, and Miller.
To date, a dozen people have been charged in the Detroit-area corruption probe, with 10 pleading guilty. They have faced bribery and other charges carrying up to five-year prison terms.
Should Kilpatrick be charged under RICO, he will face up to 20 years on each count, if convicted. The government could also seize whatever assets Kilpatrick has left after state authorities finish collecting from him in the text message scandal.
David Griem, a Detroit criminal defense lawyer and former federal prosecutor, said pursuing a RICO case gives prosecutors two advantages.
"You increase or enhance the potential penalties if they are convicted, and it paves the way for forfeiture," Griem said, referring to the government's ability to seize any property that may have been purchased with criminal proceeds.
But, he said, a racketeering prosecution also "greatly complicates the case and makes it more difficult to prove."
Feds also may build money case
Government documents suggest the FBI also is investigating possible money-laundering or tax evasion by the ex-mayor.
Kilpatrick, who has been under criminal probe by the Internal Revenue Service, made several cash deposits, which he kept under $10,000 — the level that would trigger automatic scrutiny by federal bank regulators, the documents reviewed by the Free Press say. The cash was deposited without being reported as income, the records contend. Authorities say Kilpatrick also paid credit card bills with cash.
Griem said the government would likely look closely at possible money laundering when someone makes cash deposits and also pays their bills with cash, particularly if the person is not running a cash-intensive business.
"If there is a pattern of such activities, this will certainly come under the scrutiny of federal investigators," Griem said.