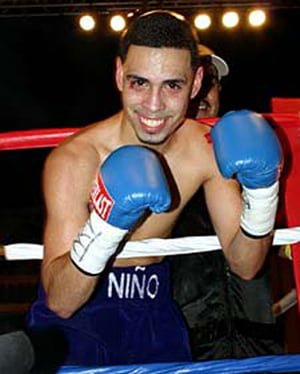 Teon Kennedy first met Francisco Rodriguez (pictured right) in the Poconos of Pennsylvania as a teenager when the two talented boxers faced off in a spirited bout as amateurs.
"It was in 2003 at the Eastern Trials when we fought each other in a tough match. He ended up winning a decision," said Kennedy, who left the ring knowing that he had lost to a worthy rival. "That was my first time ever seeing him, and he was a great fighter back then, and I guess he got even better."
Rodriguez would earn national Golden Gloves championship glory in Chicago before turning pro in 2005.
Rodriguez reeled off wins in his initial seven bouts, with knockouts in the first four, and took a record of 14-2, with eight stoppages into Philadelphia's Blue Horizon on Friday night.
There he would, yet again, match up with Kennedy.
"I already knew that it was going to be a tough fight. He was a guy who would come forward and he was an aggressive, pressure fighter," said Kennedy, a Philadelphia-based boxer who took a record of 13-0-1, with six knockouts, into his rematch with Rodriguez.
"I can't really say that I knew him personally, but I had talked to him a couple of times in 2003 when I fought him, and he seemed like a good guy," said Kennedy, 23. "I never thought then that anything like what happened on Friday night would happen between us. I just have to believe that he's in a better place right now."
Shortly after their bout was stopped in the 10th-round by referee Benjy Esteves Jr., and Kennedy was declared the winner by technical knockout, the 25-year-old Rodriquez collapsed in the ring and was rushed to Hahnemann University Hospital, where he underwent emergency brain surgery.
Rodriguez died Sunday night.
"It's a very unfortunate situation. There's not much that I can say except that my heart and my blessings go out to Francisco Rodriguez's family. I guess that it's the sport that we're in. It's just unfortunate that this has happened," said Kennedy.
"It's with a very heavy heart that we make this announcement," said promoter Dominic Pesoli of Chicago-based 8 Count Productions in a released statement.
Francisco was family to us and we all loved him very much," said Pesoli, adding that a fund is being set up for Rodriguez's wife, Sonia, and 5-month-old daughter, Ginette. "He was very popular with fight fans in Chicago and will be deeply missed."
Philadelphia promoter J. Russell Peltz told the Associated Press that Rodriguez began to lose consciousness as he sat in his corner after the fight had been stopped.
"Teon was outside of the ring when, in fact, the young man collapsed in his corner," said Kennedy's trainer, Wade Hinnant, adding that Kennedy was unaware of how serious Rodriguez's injuries were.
"I thought that it was a close fight, the way it was going, and that it could have gone either way. Even though I thought that I was ahead, it was a very close fight," said Kennedy.
"I didn't know that he had collapsed or fell off of his stool or anything. I didn't realize what had happened until I had gotten out of the ring. But right after that, I was told that he had to go to the hospital and that he was unconscious. And right after that, I started to pray for him, hoping that he would pull through."
On Sunday, hours before Rodriguez's death, Kennedy and his camp visited Rodriguez at the hospital.
"What we did was heartfelt. We felt like it was the right thing to go there and offer our condolences to his wife and his family," said Hinnant, who was told that Rodriguez's mother had been hospitalized "because she was in distress. When we saw him, he still was on a respirator."
A veteran of nearly 44 years in Philadelphia-area boxing, trainer Rob Murray said he never has had a fighter die in the ring or contribute to the death of another.
"I've known Teon since he was a little boy, and although he was a hard-working, dedicated, wonderful young kid, initially, he wasn't your type of guy you would think would be a fighter," said Murray, who trains heavyweight contender Eddie Chambers and has worked with legendary Philly greats Bennie Briscoe and Bernard Hopkins.
"This is everyone's worst nightmare in boxing," said Murray, 65. "People think that all fighters are just tough guys, but when you go through something this traumatic, it's difficult for everyone. I just pray that Teon's able to get through this."
Hinnant believes that Kennedy will be able to carry on.
"Teon is an excellent fighter, who punches well with both hands, and that's why we call him 'The Technician,' " said Hinnant. "I think that Teon's effected, but I don't see it affecting him in terms of what he's capable of, or what he's supposed to be doing inside the ring."
As for Kennedy, it appears that his feelings are too raw right now for him to determine where his emotions will be in the days, weeks and months to come.
"Right now, I realize that this is just a result of the dangerous sport we're in. It's not bothering me too much right now, but that's something where only time will tell," said Kennedy.
"I guess that I won't really know until my next fight. As much as I've been trying not to think about it too much, I'm just going to be praying every night for him and his family."