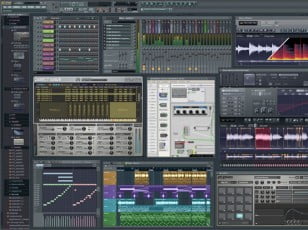 FL studio is both loved and hated by many musicians around the world. It is the music making program formerly known as Fruity Loops, that when first introduced quickly started a revolution of new music that was created by inspiring music producers and performers. The excitement was due to the user friendly design and the applications ease of use combined with an incredibly low price tag. Never before was it easier to create a track and spin it over to your DJ or recording studio.
When music industry professionals took notice of the software that's when the controversy started 'was Fruity Loops useful as a professional music production tool'. Despite the debate Fruity Loops quickly became a popular choice among music producers everywhere. The truth was Fruity Loops was very useful in many ways and even more so as new versions were released. At that point in history the name Fruity Loops was changed to FL Studio and was repackaged as an easy to use professional music creation tool.
FL Studio is currently supplied in 3 variations: studio express, producer edition and the signature bundle; each version supplying more sounds and plugin then the other.
What I would love to see is a version of FL Studio created the iPad similar to what other audio production tools are doing such as retronyms. The bottom line is Fl Studio is a great all around music production tool for any home or professional studio.