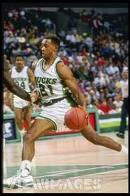 Former NBA All-Star Alvin Robertson faces sexual assault of a child and sex trafficking charges alleging he was among seven people who kidnapped a 14-year-old girl who was forced into prostitution and made to dance at a strip club, authorities said Friday.
Robertson was taken into custody Friday in Bentonville, Ark., said Bexar County Sheriff's Deputy Ino Badillo. Robertson lives in San Antonio.
The arrest comes as part of an investigation that began last April when a 14-year-old girl waved down a police cruiser in Corpus Christi and told authorities she had been abducted from San Antonio, Badillo said. She told police she was driven around the city and forced to have sex with various men before being driven to Corpus Christi and forced to dance at a strip club.
The girl escaped her alleged captor, Leslie Campbell, while he was showering, Badillo said. The 49-year-old Corpus Christi man pleaded guilty last month to sexual assault of a child.
Badillo said he didn't know the circumstances of the girl's abduction, but her parents previously had reported her as a runaway. He said the girl was able to identify several of her assailants and the locations she was taken in great detail.
Robertson's girlfriend, Raquel McIntosh, 41, of San Antonio was arrested early Friday on charges of sex trafficking of a minor and forcing a sexual performance by a child, Badillo said. Directory assistance had no listing for McIntosh, and Badillo said he didn't know if she had an attorney.
Robertson was sentenced to three years in prison in 2002 for a probation violation involving a rape accusation. His longtime former girlfriend later recanted the allegation. In 1997, the year after he retired from the NBA, he was sentenced to a year in jail after pleading no-contest to a string of misdemeanors stemming from quarrels with another former girlfriend.
The seventh overall pick in the 1984 draft, Robertson averaged 14 points over 10 seasons — six with the Spurs — and was voted to four All-Star games.