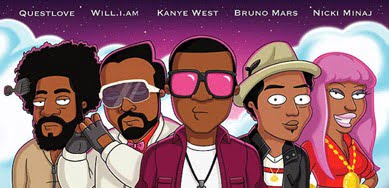 The show isn't going completely by way of the illustrious so called "hip-hop Illuminati" but it will feature some of the biggest names in the hip hop scene today.
Fox's hit cartoon and Family Guy spin-off, The Cleveland Show has enlisted hip hop acts such as Kanye West, Nicki Minaj, Bruno Mars, ?uestlove, and Will.I.Am to star in the most anticipated episode of the series titled, "Menace II Secret Society."
This won't be Kanye's first appearance on the show. He was featured a few seasons back as "Kenny West" a rival of the show's main character, Cleveland Brown.
The network released the full poster for the episode at Comic-Con which shows the full line-up in animated form.
Last summer, Mike Henry, who does the voice of Cleveland revealed the existance of the episode for the first time, "We have an episode where Kanye and will.i.am, playing himself, and Nicki Minaj, playing herself, and Bruno Mars, playing himself, and ?uestlove—they're all part of the rap Illuminati, the secret group that controls pop culture," said Henry.
The episode sounds pretty interesting. In a brief summation of it, Cleveland inadvertently breaks into it ("it" being the illuminati) and then it's how he will either bring them down or they'll bring him down. Of course there will be original songs by each of the artists in the show… it's only right… right?
The season premiere of "The Cleveland Show" airs October 7 on Fox.