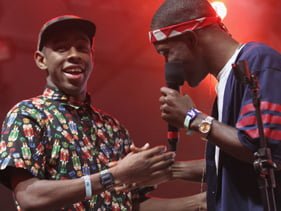 Despite country music singer Chely Wright saying that Frank Ocean's decision to come out could be detrimental to his career, The Novacane singer continues to receive a tremendous amount of support from just about everyone in the hip hop and entertainment community.
Just as independence day began to ring in, Frank Ocean declared his own independence—on his sexuality. The Odd Future click member typed out a letter and posted it on his tumblr page telling the world about his first love, who happened to be a man.
One of the first people to have Frank's back, his crew member and the leader of Odd Future, Tyler the Creator. Tyler took to his twitter and said, "My big brother finally f—ing did that," tweeted Tyler on Wednesday. "Proud of that n—a cause I know that sh– is difficult or whatever. Anyway. I'm a toilet."
Another major supporter was Def Jam Records co-founder and Global Grind owner, Russell Simmons. Simmons posted on Global Grind showing his support for Frank courage and the bravery that he has displayed in this announcement.
In his post titled, "The Courage of Frank Ocean Just Changed the Game!", Simmons wrote, "Today is a big day for hip-hop. It is a day that will define who we really are. How compassionate will we be? How loving can we be? How inclusive are we? I am profoundly moved by the courage and honesty of Frank Ocean. Your decision to go public about your sexual orientation gives hope and light to so many young people still living in fear. These types of secrets should not matter anymore, but we know they do."
Calling Ocean's talent's "undeniable" and "enormous" and his bravery "incredible," Simmons hoped that the singer's actions will, "uplift our consciousness and allow us to become better people. Every single one of us is born with peace and tranquility in our heart. Frank just found his." Ocean's mother, Katonya Breaux Riley, tweeted her pride in her "brave and honest" son, writing, "I wish more people in the world could be brave enough to be who they really are … Thank you to all who have shown love and support. My son is the most incredible human I know. Honest, true and loving. We appreciate you!" She also re-tweeted a note from Solange Knowles, who said, "I salute you, brave soul. Independence day."